Things You'll Need
Measuring tape

Pencil

Paper

4 wood or steel beam pieces, 2-by-4 inches

Saw with metal cutting bits or blades

Masonry screws or roofing nails

Hammer or drill

Jig or circular saw with metal blades

Window

Caulking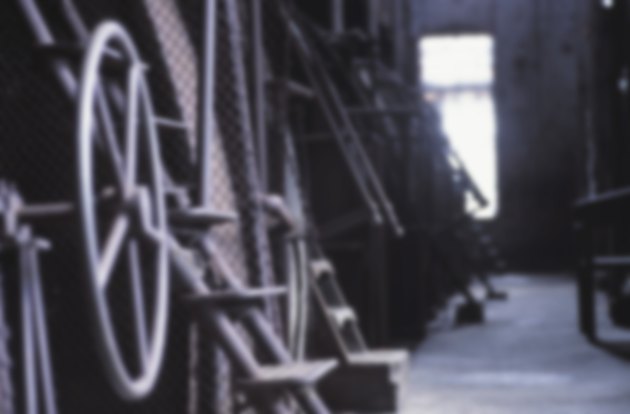 Perhaps you'd like to use your metal shed for potting and light garden maintenance and don't want to install an electrical light, or you want to add a decorative detail to its exterior. Installing a window can provide natural light for working in the shed, and it also allows you visual access to the contents from the outside. A window can also soften a metal shed's rustic look. The project requires using special tools that cut through metal effectively and cleanly.
Step 1
Measure the size of the window you want to install. Write down the measurements.
Step 2
Locate an area on the wall of the shed where you want to place your window. The open space should sit between two studs, depending on the window width.
Step 3
Assess how high up on the wall you want the top of the window to sit. Use the top of a shed door, for instance, for a balanced look. Measure the distance from the floor to the height where you want the top of the window opening to be. Record that measurement.
Step 4
Subtract the window height from the measurement from the floor to the top of the window. For instance, the top of a window sitting 72 inches off the floor minus its height, 24 inches, would be 48 inches. Mark this height on the wall, where the top of the window's bottom framing piece will lie.
Step 5
Cut a 2-by-4-inch piece of wood the width of your window minus 4 inches to accommodate the side joists. Cut a second piece the same length.
Step 6
Cut two 2-by-4-inch pieces of wood measuring the length of the wall.
Step 7
Screw or nail the shorter planks where the top and bottom areas of the window are marked. Place a level atop each one to ensure the plank sits straight.
Step 8
Cut out the window opening using a jig or circular saw with metal blade attachments, or pre-drill holes with a masonry-bit drill, and carefully cut along the frame with heavy-duty tin snippers.
Step 9
Lift the window up to the opening on the outside of the shed, if it has a nailing flange on its front, exterior. Check for a proper fit before nailing.
Step 10
Apply a layer of caulking around the opening, where the flanges will sit atop. Carefully set the window in place, and nail each corner down securely using roofing nails. Apply additional nails on each side for a secure fit.
---
Emily Pate holds a Bachelor of Arts in theater arts and government from New Mexico State University. She has worked as a dance and substitute teacher, administrative assistant and in film and videogame production. She has more than 16 years of theatrical experience as an actor, director and playwright.