Pole construction is a simple building method utilizing wood or metal poles as vertical supports. The poles are connected with horizontal beams to complete the construction frame. Pole building projects may or may not have a cement slab floor or foundation. Applications for pole construction projects include simple shelters, barns, and garages.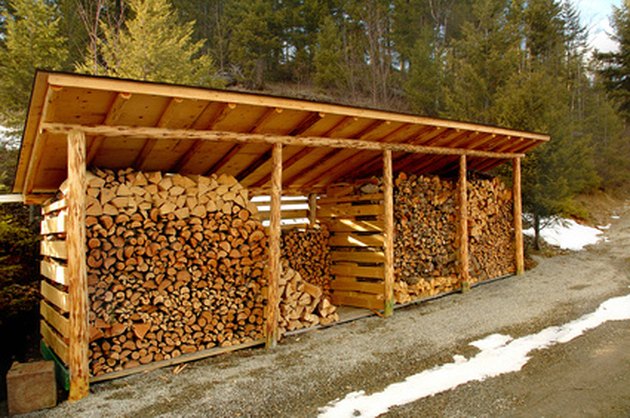 "Pole barn" is a common phrase to describe a barn made with pole construction. The pole barn may have a dirt floor or a concrete slab, depending on the needs and budget of the farmer. Most pole barns are completely enclosed on all four sides, with a large opening in the center of one wall. The opening may or may not have a door. Pole barns are used to store farm equipment and supplies, as well as to house animals.
An open garden shed is another example of a pole building project. Garden sheds are often open-sided structures with a covered roof. Concrete, gravel, and dirt are all possibilities for a garden shed floor.
Picnic shelters are pole building projects that may be small enough to fit in your backyard, or large enough to cover multiple picnic tables. Picnic shelters are always open sided, and most have a pitched roof to cover a cement slab floor. As with other types of pole building projects, the cement slab flooring is not a requirement.
Build a cover for a motor home, boat, or other vehicle with pole construction. Frame the structure with skirting, and pour a cement floor so your vehicles will not sink into the ground.
Add a pool house to your backyard made from pole construction. Enclose the four sides completely, and add a door for access and windows for ventilation. You could also enclose three side of the building and leave and entire wall open to the pool.
To expand your outdoor living space, build a pole building as a cover for a kitchen in your backyard. Make an open-sided structure with a roof and a cement floor, or enclose one or more walls for privacy. As with any pole building project, once you have the frame, you can cover the outside with wood, vinyl, or metal siding.
If an outdoor kitchen is not a personal necessity, make an outdoor living room using pole construction. Enclose one or two sides, or leave all four walls open. Cover the concrete slab with tiles, and add a free-standing fireplace for ambiance. Hang a flat screen on one wall, create a small bar area, and furnish the space with outdoor-rated furniture for added comfort and style.