Tractors can be used for many outdoor projects, from big jobs like excavation and grading to everyday mowing. Using some common attachments, you can grade the land in your yard or driveway to create an even surface. If you will be using a tractor for these types of projects regularly, it is best to choose one that is called a "garden tractor" rather than a "lawn tractor." Grading can take a bit more power than simple mowing, and garden tractors are made to hold up to more strenuous situations. A front scraper can handle basic grading, while a box scraper can create precision when necessary. A front scraper if a nearly flat blade on the tractor that is often used for pushing materials. It is the attachment most often seen snow plowing in the winter. A box scraper is a three sided rear attachment that digs into, breaks up, and ultimately evens out land. Some models can be used in both forward and reverse, so be sure to find the attachment that will fulfill your needs the best.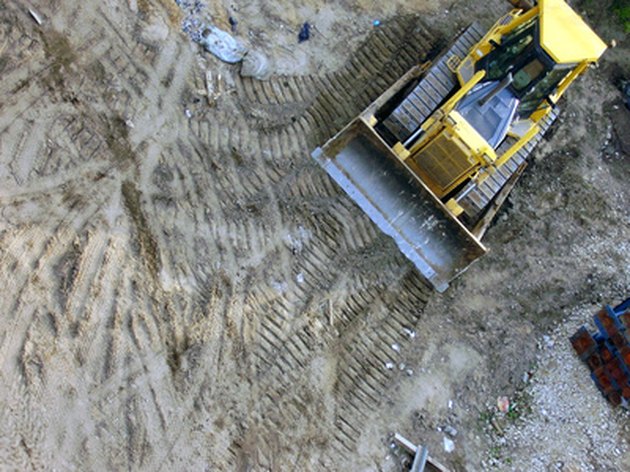 Step 1
Use the front blade attachment to smooth out large lumps and loosen the surface. Place the blade low to the ground and drive through the uneven soil. This should loosen the dirt and prepare it for precision grading when necessary. Sometimes, this first step is all that is needed, particularly if you are proficient with tractor use.
Step 2
Attach a box scraper to the rear of the tractor to achieve a precision grading. The scraper should be at least as wide as the tractor, or preferably even a few inches wider.
Step 3
Pull the box scraper over the land. It should create a smooth and even surface that can be landscaped, planted with grass, or laid with gravel for a driveway.
Step 4
If grading to create a gravel driveway, place the gravel and then use the box scraper to make one last pass to ensure evenness.