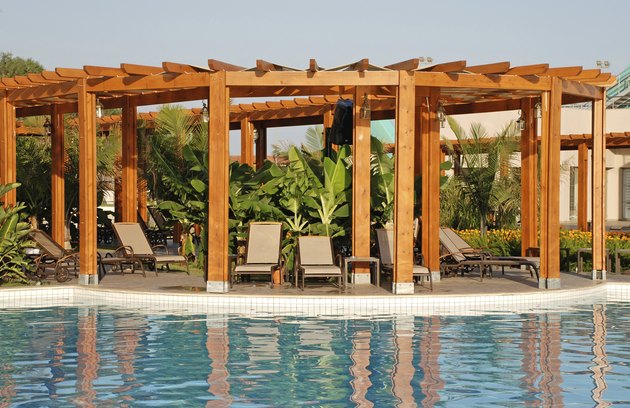 While attractive, the open rafters of a pergola don't keep the hot sun from beating down on you. The pergola's rafters, which have long decorative tails, and the perpendicular purlins that hold them in place only cast small amounts of shade. To increase the livability of your patio or deck, a cover can help block the sun's rays or the occasional rainstorm.
Keep It Green
A green roof of grapes, passionflowers or other quickly growing vines requires only the plants, along with water, fertilizer and a little training so they reach the pergola's rafters and purlins. Grapevines grow rampantly over any supporting structure, providing shade and lush grapes for snacking. When winter arrives, prune the grapevine back to only a few canes with 12 to 15 buds per cane, or short spurs with one to three buds per spur. This keeps the grapevine under control and allows you to perform maintenance on the pergola or patio.
Cover It Up
Adding a cover of shade cloth allows you to control the amount of light that filters to the patio below. In a hot climate, a 70- to 90-percent UV blocking strength allows some light through without completely blocking air circulation. Shade cloth with grommets can be lashed to the top of the pergola with cord. If you purchase the shade cloth in rolls, you can screw or staple it on top of the pergola's rafters. Shade cloth is not waterproof, so if it rains, you will get wet.
A Canvas Cover
If a water-resistant cover is needed to protect you from brief summer showers, a canvas cover provides some shelter while still allowing air to circulate. Grommets placed every 12 to 18 inches around the perimeter of the canvas allow you to lash it with cord to eyebolts on the pergola structure. When winter arrives, you can take the canvas down, clean it and store it until spring.
Clearly Waterproof
In climates that experience summer rainfall, clear fiberglass or polycarbonate panels are easily attached to the top of the pergola to let the light in and keep the rain out. If some shading is desired, light shades of gold, browns, greens and white are also available. While panel widths may vary, depending on the manufacturer, standard fiberglass panel sizes are 26 inches wide by 12 feet long.
---

Ruth de Jauregui
With degrees in fine and commercial art and Spanish, Ruth de Jauregui is an old-school graphic artist, book designer and published author. De Jauregui authored 50 Fabulous Tomatoes for Your Garden, available as an ebook. She enthusiastically pursues creative and community interests, including gardening, home improvement and social issues.