Things You'll Need
Pencil

Drill

1/8-inch toggle bolts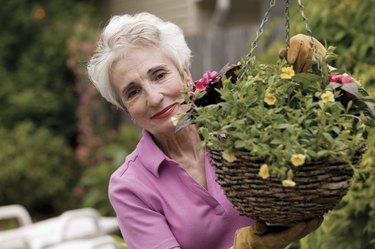 An aluminum patio cover allows you to enjoy this outdoor feature in different types of weather, providing protection from bright sun and pouring rain. Adding decorations such as hanging floral baskets liven up the space and provide life and color. In order to install a hook for these hanging decorations, you'll need one with screw holes for attaching.
Step 1
Hold the hook up to the area of the aluminum patio cover where you plan to install it. Draw pencil markings through the screw holes and onto the aluminum to mark their locations.
Step 2
Drill holes through your aluminum patio cover, extending through the metal, at each of the pencil markings. Make the holes wide enough for 1/8-inch toggle bolts by using a 3/8-inch drill bit.
Step 3
Line the hook up with the holes. Clamp a 1/8-inch toggle bolt together and insert it into the hole until you hear it snap open on the other side of the aluminum patio cover. Repeat the toggle bolt installation through each of the screw holes to hold your hook in place.
---
Sarah Schreiber has been writing since 2004, with professional experience in the nonprofit and educational sectors as well as small business. She now focuses on writing about travel, education and interior decorating and has been published on Trazzler and various other websites. Schreiber received a Bachelor of Arts in mass communications.