Things You'll Need
Shovel

Wheelbarrow

Gravel

Rake

Asphalt aggregate

Asphalt cement

Asphalt spreader

Crushed gravel

Paving machine
Tip
Avoid walking on driving on your new paved surface for 48 hours while it sets.
Follow up with a coat of asphalt seal if you live in an area that gets a lot of snow or very cold temperatures.
Warning
Use extreme caution when working with hot asphalt cement. Generally, it is best to have a paving company do this part of the job because they have the right equipment for the project.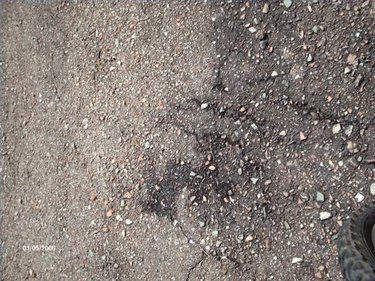 Asphalt is a type of concrete that is used to pave driveways and roads. It is composed of particles of rocks and sand, called aggregate, which are mixed with hot asphalt cement. This cement is a by-product of crude oil production and resembles tar. The asphalt acts as a bonding agent to seal the aggregate together and keep the surface strong and water tight. Paving surfaces using this material is fairly simple but does require expensive equipment to complete the job properly.
Step 1
Dig a base for your paved area. You will need to dig down approximately 8" in order to accommodate both the paving and the sub-base.
Step 2
Pour a 5-6" layer of loose gravel into the hole you have prepared. Use a wheelbarrow to transport the gravel and a rake to spread it out so that it is fairly even.
Step 3
Top off the loose gravel with a 1" to 2" layer of aggregate, composed of sand and rocks.
Step 4
Pour the hot asphalt mix (typically it is purchased from a paving contractor and delivered in large drums) onto your aggregate base, then spread it across the area using an asphalt spreader.
Step 5
Apply a thin layer of crushed gravel to the asphalt while it is still hot, then drive a paver over the surface until it is smooth and level.
---
Emily Beach works in the commercial construction industry in Maryland. She received her LEED accreditation from the U.S. Green Building Council in 2008 and is in the process of working towards an Architectural Hardware Consultant certification from the Door and Hardware Institute. She received a bachelor's degree in economics and management from Goucher College in Towson, Maryland.