Things You'll Need
Gloves

Safety Glasses

Shovel

Excavator (can be rented)

Tape Measure

Carpenter's Level

Leveling Sand

Wheelbarrow

3/4-inch Metal Pipe

Masonry Chisel

Broom

2-by-4 inch boards

Masonry Saw

Plate Compactor (can be rented)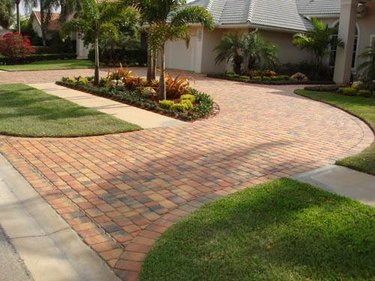 If you have a new or existing driveway that needs to be laid with concrete but you are nervous about the price of cement and labor cost then maybe you should consider pavers. Laying pavers down your driveway doesn't require a cement truck pulling up to your house nor does it require a skilled and professional group of workers. Laying pavers is something you can do yourself. With just the right guidelines, equipment and supplies, your new driveway is just a weekend away.
Step 1
Remove old driveway material. Clear the area until there is nothing left but the dirt foundation. Excavate the driveway to a 12-inch depth.
Step 2
Determine the square footage of the driveway. For example, if your driveway is 10-by-10 feet then your square footage will equal 100 sq. feet. Determine the number of pavers you need for your driveway. To find this number, you need to multiply the project area by the number of pavers per square foot.
Step 3
Install the paver base 2 inches at a time until it is 8 inches thick. Use a compactor and a level between each installation. It is important that the base is level before each new layer is laid.
Step 4
Lay down 3/4-inch steel pipes in a parallel manner, approximately 3 to 4 feet apart. After all the area is laid with pipe, fill the area with leveling sand. Use the 2-by-4 inch board as a screed to flatten the sand back and forth until it is smooth and even. Remove pipes after the sand has been laid and smoothed. Do not walk on the leveled sand once it has been leveled. Because of this, you will have to lay the pipe and level sand one section at a time.
Step 5
Begin laying the pavers down in a position where you will not have to step or walk onto the flat and smooth area. Once the pavers have been laid you can walk on them but do not walk on the base/leveling sand until the pavers are down. For places where you will not need a whole paver, use a masonry saw or chisel to size the paver to the measurement you need.
Step 6
Sweep leveling sand into the creases of the pavers using a large shop broom.
Step 7
Place edges of driveway with concrete barriers to keep base, leveling sand and pavers in place.
---
Kelly Nuttall is a student at Utah Valley University in Orem, Utah. She is set to graduate in the spring of 2011 with her bachelor's degree in technical communications. She has been writing for various websites since March of 2009.