The Bobcat company produces light construction equipment and loaders popular for renting for small projects and on commercial sites. Since its founding in 1957, the company has manufactured three-wheeled loaders, skid-steer loaders, compact track loaders and compact excavators. Over the course of its history, Bobcat has produced many variations on each of its model types, offering a vast array of lifting capacities, digging depths and engine specifications.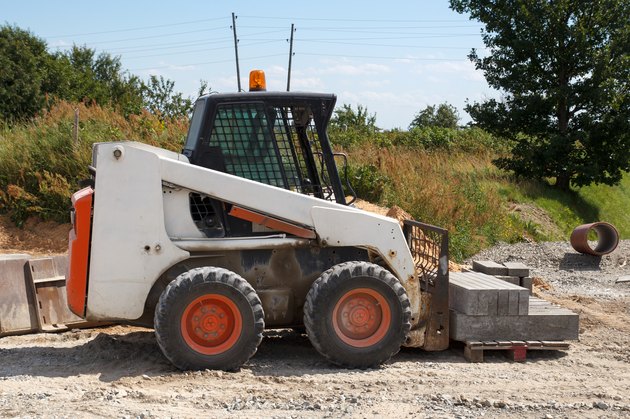 credit:
AigarsR/iStock/GettyImages
Bobcat is the most popular brand in this category, holding 28 percent of the market share for skid-steer loaders. Since 2014, the skid-steer loader has been manufactured as the S450, part of the company's M-series. Depending on the size of the loader, engine specifications range from 49 to 74 horsepower. Though the machines do not use a diesel particulate filter, they are able to achieve an EPA tier 4 pollution rating. Models range in size from 1,650 pounds to 2,100 pounds.
Up until 2006, Bobcat produced its skid-steer loaders under the G-series. The last of these was the S330, which offered a 3,300-pound capacity. It also boasted an 85-horsepower diesel engine and could travel at up to 12 miles per hour.
From 1976 to 1995, skid-steer loaders were produced under the B-series. Offered in a variety of sizes and wheelbase lengths, these loaders enjoyed great popularity. In 1991, Bobcat redesigned the loader to offer a vertical lifting path, far superior when it came to load capacity.
In 1999, Bobcat began to produce compact track loaders, which use tracks instead of wheels for stability. The company's intent was to design a compact track loader to correspond with every skid-steer loader size. Featuring lower-horsepower engines, some as low as 25 horsepower, these machines were suited to a different type of work than the skid-steer loaders. Many compact track loaders were rated to hold between 500 and 550 pounds.
Since 2014, the compact track loader manufactured by Bobcat has fallen under the M-series designation. These machines are much more powerful and versatile, boasting a 61-horsepower turbo engine and a load rating of 1,400 pounds.
From 1986 to 2008, Bobcat produced compact excavators that offered digging depths of nearly 8 feet. From 2009 to 2014, the M-series of Bobcat compact excavators powered up the machine and offered a variety of weight classes ranging from 3.2 to 8 tons.
Bobcat produced three-wheeled loaders in 1957, 1958 and 1959 under the name Keller loader. This machine offered a 6-horsepower engine and was designed largely for farming. This model did not continue into the 1960s.