Tip
Follow the weave from top to bottom so that the top and bottom are untwisted and unbent on the same single weave. One weave starts at the top in one position and zig zags back and forth to the bottom.
Chain link without points on the top have knuckles on top like the bottom. To remove a twist on this type of mesh unbend the twist you want to remove at the top and the one next to it too.
Some rolls of chain link mesh have a single weave loose in the middle of the roll for weaving two sections together. In this case, you do not need to remove a weave.
Warning
Wear leather work gloves when weaving fencing together. The top and bottom tips of a weave are sharp and can cut hands and fingers.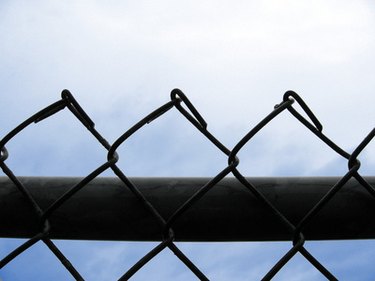 A chain link fence serves two safety purposes: keeping pets, family and children inside the boundaries of your yard and deterring strangers from entering your property. Chain link fencing is sturdy and durable but may need repairs if it receives damages in strong storms. Either repairs or long runs will require weaving chain link together.
Step 1
Lay two sections or rolls of chain link fencing on the ground. Remove one weave from either section the top of the weave at the points and unbend the bottom end of the weave at the knuckle, or the twists at the corner of each triangle in the mesh. Use pliers at the top to spin the twist in counter clockwise circles so that it twists out of the mesh.
Step 2
Lay one section on top of the second section so that the joining ends have one diamond and one-half diamond pattern overlapping. Insert the single weave at the top of the junction so that it will enter both sections of mesh. Use pliers to twist the weave clockwise through both sections with each revolution. Weave the two pieces together fully from top to bottom.
Step 3
Bend the weave with pliers over the bottom to secure it in place. Bend it in the same direction as the other connections at the bottom. Secure the top of the weave by twisting the insertion weave and the weave next to it together or bending it over for a knuckle-style mesh.
---

Mary Lougee
Mary Lougee has been writing for over 10 years. She holds a Bachelor's Degree with a major in Management and a double minor in accounting and computer science. She loves writing about careers for busy families as well as family oriented planning, meals and activities for all ages.