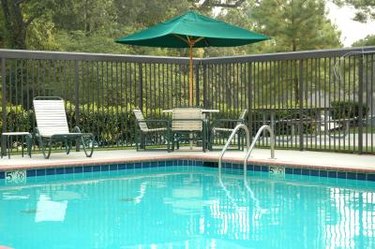 The function of the swimming pool fence is safety and decreased liability to the property owner. The pool fence is not to keep people in the pool area. Rather, you want to ensure that you keep small children and non-swimmers out, as they are at risk of drowning in an unsupervised pool. The pool fence can also function as a safeguard against vandalism. In most communities, the fence is required by law to meet BOCA code standards.
Warning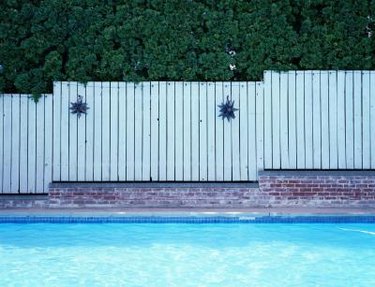 The BOCA (Building Officials and Code Administrators International, Inc.) code and the IBC (International Building Code) are the nationally accepted standards for building and construction. These codes establish the specifications for appropriate pool fence height. There are some instances where local regulation may be different, such as homeowners' association covenants. Be sure to verify that your plans meet local requirements.
Significance
An adequately constructed pool fence will satisfy the provisions of your homeowners insurance. Properly maintained and operated, your fence and gates offer you the security of knowing that your swimming pool is safe from accidents or intruders in your absence.
Types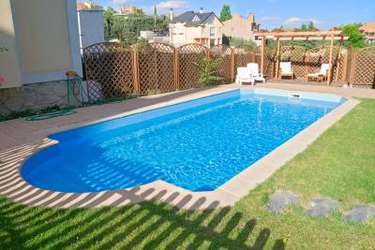 There are woven mesh safety fences and gates for installation on the deck of in-ground pools. To fence in the entire pool area, picket-style fencing with no more than 4-inch spacing between slats will deter small children and unwanted visitors. Fences need to be constructed of sturdy material and maintained against weather and water damage. Aluminum is a durable, rust-proof, low-maintenance choice. Chain link fence and lattice panel fencing are not recommended as they are very easy to climb.
Size
In accordance with the BOCA code, the swimming pool fence has to be at least 48 inches high with a minimum of 45 inches between the bottom rail and the next highest rail, which may or may not be the top rail of the pool fence design. There can be no more than four inches from the ground to the bottom rail. The standards for pool fence height are the minimum specifications and can be exceeded if accepted by your local government's code enforcement official.
Consideration
Along with a good strong fence, you will need a gate that will close and latch automatically. The latching device has to be a minimum of 54 inches from the ground. The gate must open toward the outside of the pool area. When evaluating plans for your pool fence, be aware that a person could climb on objects near the outside of the fenced area to get over the fence.
---
Debbi Tom has channeled her life experience and passion for writing into a second career after retiring from her own restaurant business. Currently residing in Arizona, Tom has several gardening and travel articles published on a variety of websites.