Cinder blocks that show around the top few feet of your basement, or those that are visible around the exposed portions of a daylight basement can be an eyesore for you, your neighbors and visitors. Hiding the ugliness of cinder blocks isn't difficult, but make sure you do it in such a way that it does not expose your home to unnecessary damage from pests.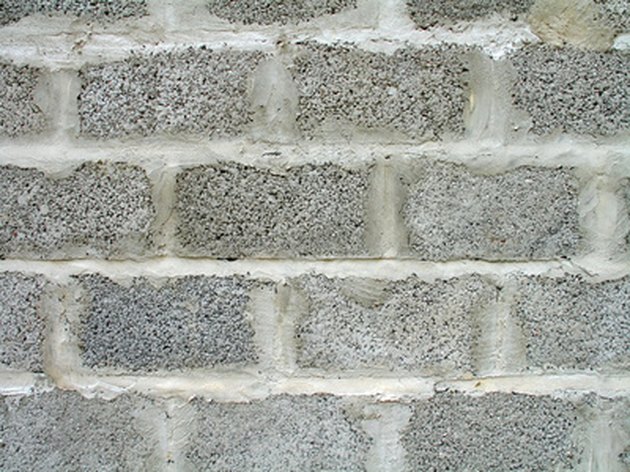 Plants can be an attractive way of hiding cinder blocks, but they also attract bugs, which you'll want to keep away from the wooden portions of your home. Plant shrubs that are insect-resistant and thick enough to fully block the view of exposed cinder blocks. Check carefully on a regular basis for signs of insect damage to wood siding where the wood and cinder blocks meet. Check with pest contractors in your area to find out how far you should keep plants from the wood and find out which plants they recommend to keep harmful bugs to a minimum.
Once you've sealed your cinder blocks with a primer, you can paint them nearly any color and style with standard exterior house paint. The texture of the blocks and the mortar patterns will prevent the paint from blending in with your house paint, so try a faux finish instead. Warm red brick or cool gray stone faux finishes can make your home look as though you built it on more expensive materials than you did, and the texture of the faux finish will not show wear as readily as a solid color paint coating. When applied with skill, the faux finish paint can be indistinguishable from real stone or brick upon casual inspection. If you are not comfortable doing the painting yourself, hire a local artist with experience. For the best finish, dig out a small amount of dirt around the basement walls and paint all the way down, then replace the dirt so the faux finish appears to go below ground like the rest of the wall.
Placing a short fence around the cinder block areas will hide them from view, and depending on the fencing, it can add style to your home or create a garden theme. If the fence is made of an insect-attracting material like wood, place the fence 1 to 2 feet away from your home, and make it taller than the cinder block height, so a person walking normal pathways around your home cannot see over it to the cinder blocks below. Consider bamboo fencing for this purpose, as it is attractive and natural, making it environmentally friendly and compatible with many home styles.
If you have a local metal artisan, consider contracting him to create sheet metal panels in copper and aluminum to surround your basement walls. If you prefer a clean, white look, many models of vinyl fencing are available at home improvement stores. You can place both metal and vinyl directly against your home, as they will not attract insects.