Things You'll Need
Post hole diggers

Concrete mix

Shovel

Wheelbarrow

Wooden posts

Level

Vinyl fence slides

Rubber mallet
Tip
Using an auger will greatly decrease the time that it takes to dig post holes, especially if the area you are fencing is large.
Install wooden posts at the correct height so that the vinyl fence slide will cover the entire post.
Determine the height of the fence line before ordering vinyl fence slides. Install the posts deep enough so that the fence slides will cover the entire post and touch the ground.
Warning
Installing the post caps at any level other than their deepest level on the post will not protect the wooden post underneath from weather.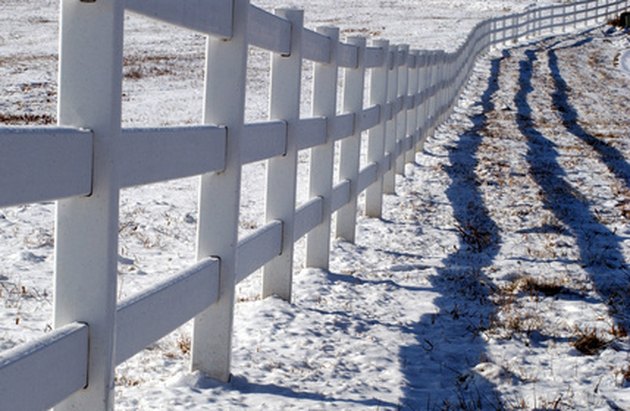 Installing vinyl fence slides over wooden posts has several advantages. The slides are hollow vinyl and are about 1/3 the price of solid vinyl posts. This method of fencing also saves money because you have no need for treated wooden posts due to the slide and cap, which will protect wooden posts from weathering, rotting and pests. Vinyl slides require little maintenance other than occasional cleaning to remove stains.
Step 1
Dig a hole with post hole diggers that is 1/3 the height of the wooden post and 3 to 4 inches larger around. Mix concrete mix in a wheelbarrow with a shovel. Make sure it is thoroughly mixed and has no dry spots or excess water puddles.
Step 2
Shovel 3 inches of concrete mix into the post hole and set the post in the center of the hole. Level the post both horizontally and vertically in the center of the hole, using a level. Fill the post hole around the post to 2 inches below ground level. Let the concrete mix dry so it can cure and provide stability.
Step 3
Raise a vinyl fence slide high enough to slide over the top of the wooden post. You may need a chair to stand on so that you have enough height to place the slide over the post.
Step 4
Position the vinyl fence slide so that it is square upon the post. Place the post cap on the top of the fence slide and press firmly down. Tap the cap with a rubber mallet to attach the post cap as far down as it will go. Add vertical fencing by sliding the boards into the slots on the vinyl fence slides.
---

Mary Lougee
Mary Lougee has been writing for over 10 years. She holds a Bachelor's Degree with a major in Management and a double minor in accounting and computer science. She loves writing about careers for busy families as well as family oriented planning, meals and activities for all ages.