Things You'll Need
Level

Shovel

Measuring tape

15 2 x 4's, 10' long

Nails

Hammer or nail gun

Saw

Water sealer

Pump sprayer
Tip
Cut all your boards before you begin so they are ready to go.
Warning
Check all your angles and double-check your measurements before you cut anything.
Building a ten foot by ten foot deck is a job which can be accomplished in a day. It isn't very expensive, and doesn't require a great deal of tools. Deck floor boards come in a variety of sizes and looks. It is important to choose how you want your deck to look before you begin. If you decide not to go with traditional wood decking, you don't have to worry about water sealing it.
Step 1
Level the ground where you plan to build the deck. Depending on how level the ground is to start with, leveling it will either involve adding dirt or taking away dirt.
Step 2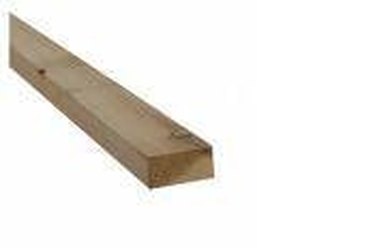 Lay down two of the 2 x 4's on their two-inch side. You want to lay them parallel to each other, ten feet apart.
Step 3
Lay down two more boards on their two-inch sides parallel to each other so that they create a perfect square with the first two boards you laid down. At this point, each of the four sides should be ten feet long and each of the four corners should be perfect 90-degree angles.
Step 4
Nail the boards together, once you make sure your angles are all correct.
Step 5
Cut off exactly four inches from your remaining 2 x 4's. This should make them each 9'8" long, which should fit perfectly when placed horizontally in the square. You want the 2 x 4's on their two-inch sides, touching both ends of the square.
Step 6
Nail the 2 x 4's to the deck frame every 16 inches. You'll need 11 2 x 4's to go all the way across, and the last one will only be ten inches from the frame.
Step 7
Lay the first piece of decking flat on top of the frame all the way to the right. Nail it to the board beneath it.
Step 8
Lay the next board so that it is directly up against the first board you put down, and nail it to each of the 2 x 4's going under it.
Step 9
Repeat step eight until you have covered the entire surface of the deck.
Step 10
Spray the deck with a water seal to protect it from damage and rotting. Allow time for the water seal to dry before using the deck.
---
Melanie Williamson graduated in 2004 with a bachelor's degree in sociology. She worked for four years as a college writing tutor. During that time she proofread and edited academic papers. She works as a professional freelance writer and writes for a variety of websites. In April 2011 she published her first book on resume writing.