Natural landscaping materials such as flagstone and pea gravel bring long-lasting, rugged beauty to any home. Offering a slip-resistant surface, flagstones are also a practical choice for a patio. Their irregular shapes and sizes piece together to form a unique surface, while pea gravel fills the gaps between stones, adding a contrast of color and texture. Beginner and experienced do-it-yourselfers alike can complete this project over a few days, depending on the size of the patio.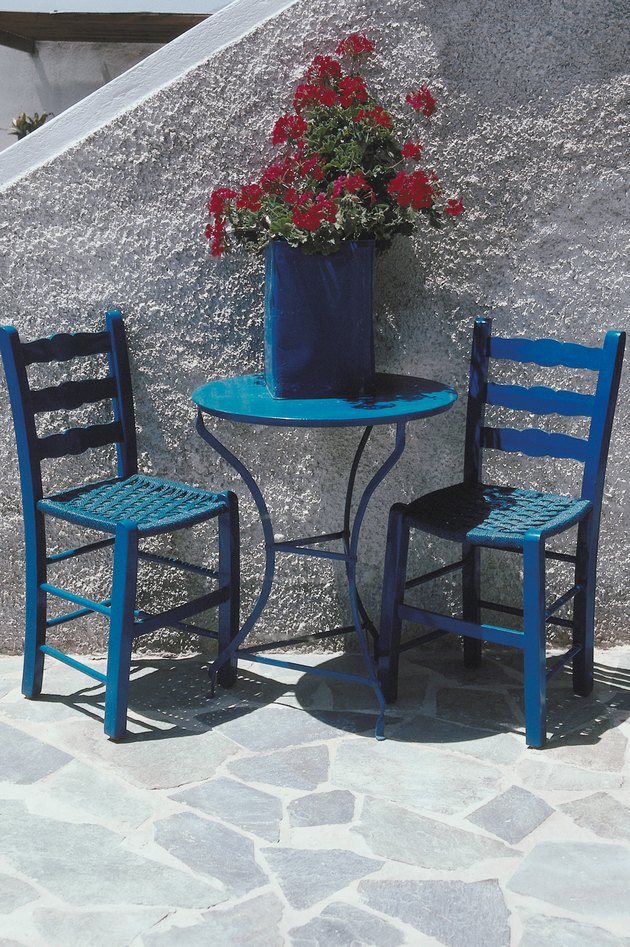 Step 1
Lay ropes on the ground to outline the sides of the patio. Measure the length and width with measuring tape and adjust the size to accommodate outdoor furniture and other needs.
Step 2
Cut out the grass within the ropes using a flat shovel. Dig out topsoil from the site until the depth is at least 8 inches and dump it on a nearby tarp to re-use in a low area of the yard. If the patio is close to the house, slope the subsoil away from the home by digging down another inch with every 8 feet of distance.
Step 3
Press the flat end of a manual tamper over the subsoil. Go over the entire site two or three times or until the ground feels hard and resists force.
Step 4
Fill the bottom 5 inches of the site with 3/4-inch gravel. Spread it into the corners and sides with a rake and tamp it down.
Step 5
Fit edging around the inner perimeter to keep the stones in place. Use landscape timbers for visual contrast or metal edging restraints that will blend in with the stones. Secure the restraints by hammering 12-inch lawn spikes through pre-cut holes in the top of the restraints.
Step 6
Dump fine-grit sand over the gravel and spread it smooth with the flat side of the rake. Continue adding sand until the bed is 1-inch thick.
Step 7
Set the flagstones in place beginning at one corner and work across. Use large and medium-sized stones and turn them until the gaps between are minimal. Note that split stones vary in thickness. Place a level over adjacent stones and add or remove sand as needed to make the stones even with one another.
Step 8
Sprinkle polymeric sand over the patio and sweep it into the bottom half of the gaps between the stones. Moisten the patio lightly with a hose and wait about an hour for the sand to harden in the joints like cement.
Step 9
Pour pea gravel over the patio in small sections at a time. Sweep the gravel into the remaining gaps. Lay a rubber mat over each section to protect the stones and tamp the gravel into the joints.