Things You'll Need
Pressure washer

220-grit sandpaper

Acrylic latex primer

3- to 4-inch latex paintbrush

Acrylic latex deck paint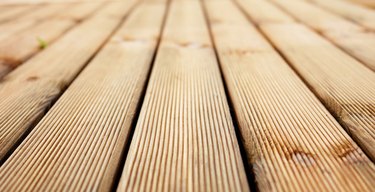 Although cedar decks look beautiful when they are new, they will turn a dull gray relatively soon unless they are sealed with a coat of stain or paint. If you plan to paint your cedar deck, there are some things you should know before you get started. First, you must prepare the surface to accept paint, or over time the painted finish coat will flake and peel. In addition, you must be thorough in the application process, or you will leave the deck vulnerable to rot and fungal and mold infestations.
Step 1
Wash the cedar deck using a pressure washer. Use a low-pressure tip, or you may accidentally damage the cedar. Wait for the deck to dry.
Step 2
Smooth any splintering areas of the cedar deck by sanding them. Sand with the grain of the cedar. Do not sand against the grain, or the wood will splinter.
Step 3
Apply an acrylic primer to the rails of the deck using a paintbrush intended for applying latex water-based paints.
Step 4
Apply primer to the bottom of the deck. Lay on your back if the deck is too low to stand under.
Step 5
Apply primer to the surface of the deck. Begin in a far corner and work backward toward the cedar deck's exit point. Wait two full hours for the primer to dry.
Step 6
Wash the brush with water.
Step 7
Apply acrylic deck paint to the primed deck just as you did the primer. Wait six hours before using the deck.
---
Ryan Lawrence is a freelance writer based in Boulder, Colorado. He has been writing professionally since 1999. He has 10 years of experience as a professional painting contractor. Lawrence writes for High Class Blogs and Yodle. He has a bachelor's degree in journalism and public relations with a minor in history from the University of Oklahoma.