River rocks are smooth, rounded rocks that have been smoothed over time from the water currents. There are a variety of uses for river rocks in and around the home. They are available in many sizes from pebbles to large rocks and colors ranging from blues, reds and yellows to many different shades of grays, blacks and whites.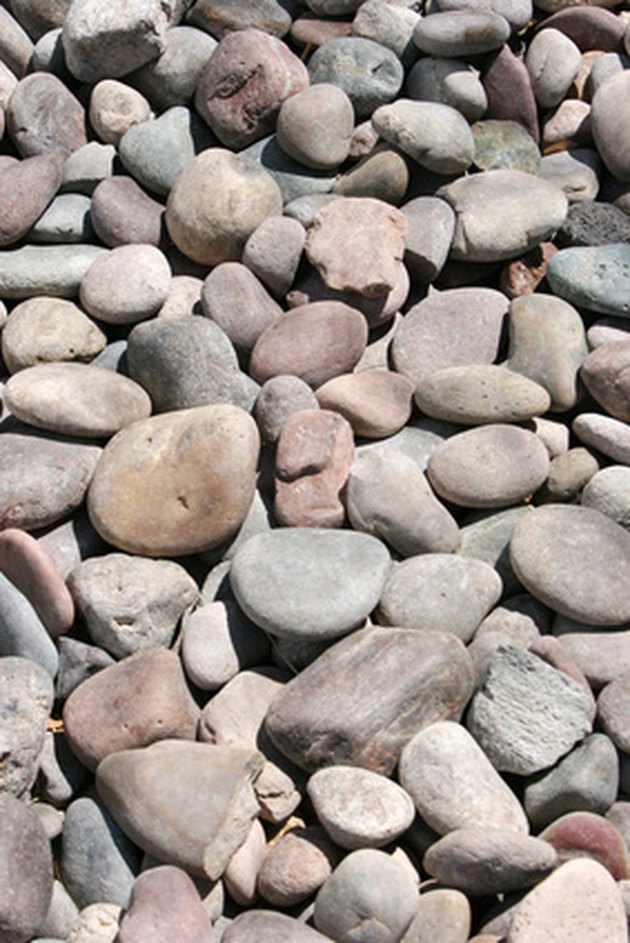 River rocks are used in landscaping and garden projects, according to Home Buying Institute. They may be used to create paths, build walls and borders and to complement ponds and fountains. They are often used in aquariums to provide hiding places for fish with a natural appearance. River rocks can disguise a drainage system with a pleasing appearance. They are used in hot stone massages for the relief of muscle aches, back pain, arthritis pain and stress, and they have even been used in wedding décor and as "place cards."
River rocks may be found at your local garden center, landscaping companies, craft and hobby supply stores and even online. Aqua-Fish notes that if you purchase them online, you should consider the shipping costs, particularly if you are shopping for larger rocks.
There is a wide range of sizes, shapes and colors of river rocks available. For example, Scott Stone offers small 3/8-inch stones up to large 24-inch rocks. They can be found in rounds, flats and more irregular shapes. Rocks may be polished or unpolished.
The cost of river rock varies, depending on the size of the rocks. For example, the 2010 price for a case of 12-by-12 inch river rocks at Home Depot is $110. A case covers 10 square feet if used for a path or patio. Stone Decorative offers river rocks online. A 22-lb. bag of 3/8- to 4-inch rocks, polished or unpolished, ranges from $26 to $40 (2010), with volume discounts.
For large landscaping jobs, you may choose to hire a professional contractor, according to the Home Buying Institute. A contractor will take care of delivering the rocks and has more experience with placement. When using river rocks in ponds or fountains, it is important to keep the water circulating to prevent algae, bacteria and mosquitoes. Aqua-fish indicates that when purchasing river rocks for an aquarium, make sure the rocks will not affect the water's pH and that the chemicals used on polished rocks are not toxic to your fish.