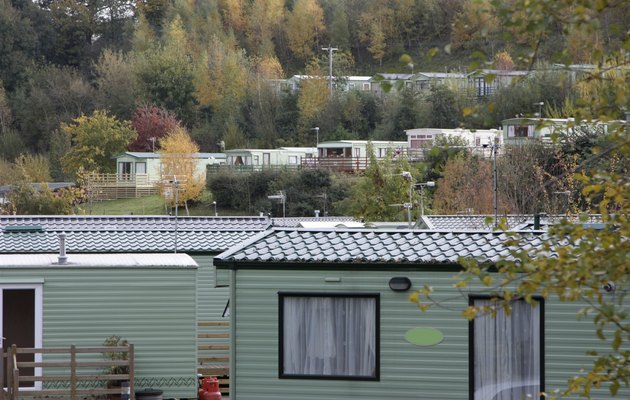 Mobile home landscaping should address the specific features that set mobile homes apart, helping make the mobile features of the home less obvious. The most obvious features are the towing equipment -- wheels, axles and a tow bar -- used to transport the home. Additional problems that can be addressed with landscaping include accessibility to doors, lack of entertainment space, exposure to full sun, small lot size and close proximity to neighbors.
Concealing Tow Equipment
The tow bar at the front of the mobile home can be removed and later replaced if you decide to move the home in the future. Skirting installed between the ground and bottom of the home conceals the wheels and axles while preventing access to animals and blocking hot and cold air circulation under the home. Choose from basic corrugated metal or vinyl skirting, or try faux brick or stone panels to give the look of a real foundation. Plants in flower beds soften the appearance of skirting, and look best arranged in order of descending height. Try hostas (Hosta plantaginea var. japonica), which grow in U.S. Department of Agriculture plant hardiness zones 3 through 9, in shaded sites when the skirting is fairly short. Boxwood shrubs (Buxus sempervirens), which grow in USDA zones 5 through 8, work well to conceal large skirting panels in full sun when the home sits higher off the ground.
Access and Entertainment
When the mobile home is set in place on the site, it is up to you to provide a way to access the front and rear doors. When the home is placed on a level spot, this might be as simple as a small stoop with a single step, but the front door could be 10 feet off the ground if the home is positioned on a hillside, requiring a larger set of steps and a porch for access. On level ground, add a patio outside the back door so you have a place to entertain guests or relax outdoors. Similarly, you can build a deck off the back door on hillside sites. The least expensive and easiest patio is to spread several inches of gravel over a leveled site, but you might prefer the more finished, high-end look of a brick paver or stone patio.
Hello, Sunshine!
The site for the mobile home must be accessible for a tractor trailer to deliver the home, which usually means a cleared lot with few shade trees. Large shade trees can take decades to mature and bring relief from the sweltering sun. While you can pay astronomical prices to have mature shade trees transported, this isn't your only option to provide shade. A pergola makes an attractive option to cover a patio or deck when you don't want to completely block the sun. Vines trained over the open rafters provide shade while allowing sun to filter through the leaves. Retractable canopies installed on the side of the mobile home can be opened or closed so you can choose whether or not to have sun. If you want total protection, consider building a roof over your outdoor entertainment space.
Small Lot, Close Neighbors
Mobile home communities with small lots and closely spaced homes offer little privacy from neighbors. A 6- to 8-foot privacy fence is a quick, but expensive privacy option. A living fence of plants in a row provides privacy with the softness and color of plants. Pyramidal arborvitae (Thuja occidentalis "Pyramidalis"), which grows in USDA zones 3 through 8, provides evergreen coverage. Try "Nikko Blue" hydrangeas (Hydrangea macrophylla "Nikko Blue"), which grow in USDA zones 6 through 9, if you prefer a colorful living fence. Although fast-growing, these plants can still take several years to fill in completely, so a living fence of vines trained on a trellis might be the best option. A single fiveleaf akebia vine plant (Akebia quinata), which grows in USDA zones 5 through 9, grows up to 25 feet in a single season. Use lattice sheets or strands of fishing line attached to posts to support the vines.
---
A former cake decorator and competitive horticulturist, Amelia Allonsy is most at home in the kitchen or with her hands in the dirt. She received her Bachelor's degree from West Virginia University. Her work has been published in the San Francisco Chronicle and on other websites.