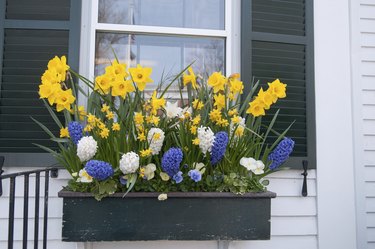 Having a small front yard doesn't mean you can't make a big impact with your landscaping. Working with the features of your home and items already in place can help your design process while giving you the backbone for your overall vision. If you don't have a lot of room for plants, don't fret; small updates can make the biggest differences. Before getting started, double check your homeowner's association's rules regarding front landscaping plants and structures.
Warm Welcomes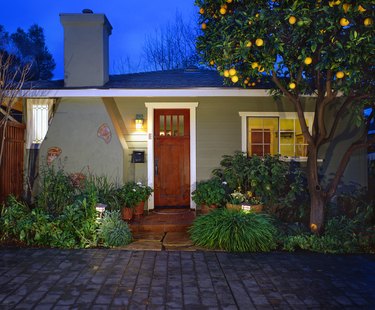 The front yard landscaping should always highlight the front door while creating a warm welcome to visitors. A vibrantly colored front door is one way to clearly identify the entrance.
Another way to warmly welcome visitors is to enhance the walkway to your front door. Low-growing, ground-hugging evergreens on each side of the path create the illusion of a wider walkway, while small bedding annuals directly beside the path give a boost of color.
Other alternatives for a small front yard include a small grouping of planters in varying sizes on your porch or to one side of your door.
Seasonal Interest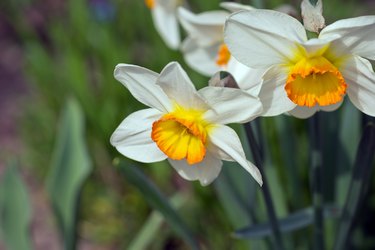 Evergreens work well in front landscapes because they give year-round color; however, colorful perennials for every season can boost your curb appeal while offering seasonal variances.
Early spring-blooming plants, such as daffodils (Narcissus spp.), which grow in U.S. Department of Agriculture plant hardiness zones 3 through 10, add sunny color as winter is still making its exit. Colorful annuals such as dahlias (Dahlia spp.), which are hardy in USDA zones 8 through 10 as perennials, have a long growing season and offer bright colors to accent the home and lawn. A dwarf "Pee Wee" oakleaf hydrangea (Hydrangea quercifolia "Pee Wee"), which grows in USDA zones 5 through 9, provides white to pinkish-white flowers in late summer with deep red fall foliage on a 2- to 3-foot-tall shrub.
Accenting Structures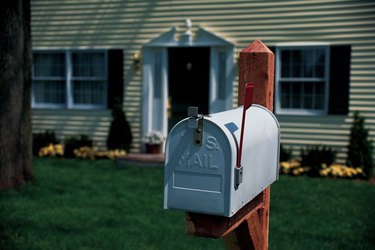 Because small front yards don't offer the opportunity to put in large gardens or other features, using what you have is one way to get started. Lampposts and mailboxes, for instance, make ideal features to highlight since they are already incorporated.
Planting small vines or plants that grow just as tall as the bottom of the mailbox or lamp housing can make a big impact without the troubles of finding a place for new structures.
Designing With Planters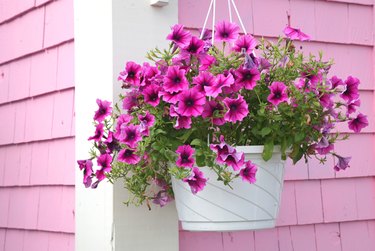 Even if your front yard is too small for flower beds, consider adding color with planters. Hanging baskets can hang from the roof of your porch to draw the eye upward. Window boxes accent your home's architectural detail while allowing you to express yourself with color and texture.
Planters come in all shapes and sizes, allowing you to customize your design and find something that works for your small space. Some planters are specially designed to hang on railings; a variety of planter stands allow you to plant multiple pots. Trellises are another way to add flowers in a small space as they give climbing plants a place to spread out and grow.
Privacy Matters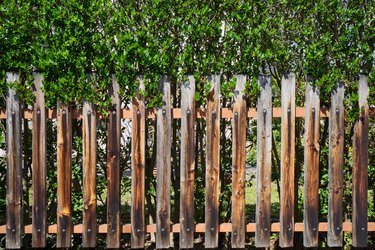 A small yard may feel smaller when boxed in by a large privacy fence or taller screen plants. Single panels of tightly woven lattice, iron or wood panels can be placed individually to block the view from one direction, or in a 90-degree angle to produce a more private area. If you do have more space, a more traditional fence or privacy hedge can provide you with peace of mind and a more private outdoor living area.
---
With a professional background in gardening, landscapes, pests and natural ecosystems, Jasey Kelly has been sharing her knowledge through writing since 2009 and has served as an expert writer in these fields. Kelly's background also includes childcare, and animal rescue and care.