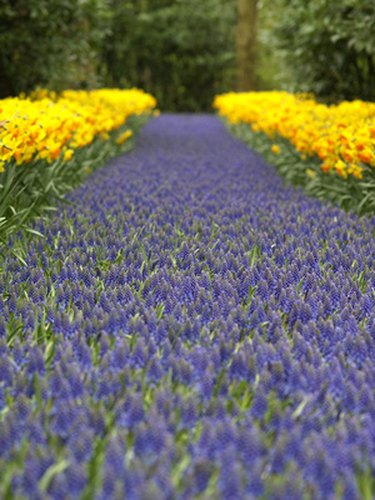 Do not wait to spring to think of spring flowers. Whether you choose bulbs or seeds, your garden's success will depend upon getting your plants into the ground at the right time. Seeds and bulbs planted in autumn must root before cold weather.
Bulb Considerations
Spring bulbs cost more than seeds but can supply years of spring blooms to your garden. Start putting in bulbs in September and continue until the ground freezes. Plant bulbs at a depth of at least two times the size of the bulb.
Time Frame for Seeds
Fall is also the best time to plant flower seeds, and October is the optimal month. Clear out weeds and grasses before planting. Mix annuals with perennials to guarantee spring flowers; perennials can grow sparsely the first year but will return annually when established.
Options
If you cannot get spring seeds planted in autumn, plant in spring but expect later blooms. While most annuals cannot be planted in spring until the ground warms above 60 degrees Fahrenheit, you can put in baby-breath and gaillardia as soon as you can work the soil.
---
From Alaska to California, from France's Basque Country to Mexico's Pacific Coast, Teo Spengler has dug the soil, planted seeds and helped trees, flowers and veggies thrive. A professional writer and consummate gardener, Spengler has written about home and garden for Gardening Know How, San Francisco Chronicle, Gardening Guide and Go Banking Rates. She earned a BA from U.C. Santa Cruz, a law degree from U.C. Berkeley's Boalt Hall, and an MA and MFA from San Francisco State. She currently divides her life between San Francisco and southwestern France.
View Work