While liquid butter tastes delicious on your English muffin or your ear of corn, you don't like it quite so much when it drips onto your clothes. Acting similarly to a grease or oil stain, butter stains won't simply wash out of your clothing; they require a little more care. If liquid butter has found its way onto your cotton clothing, it can seem like a disaster. With a little quick thinking and the right materials at hand, liquid butter can be eliminated as though it was never there to begin with.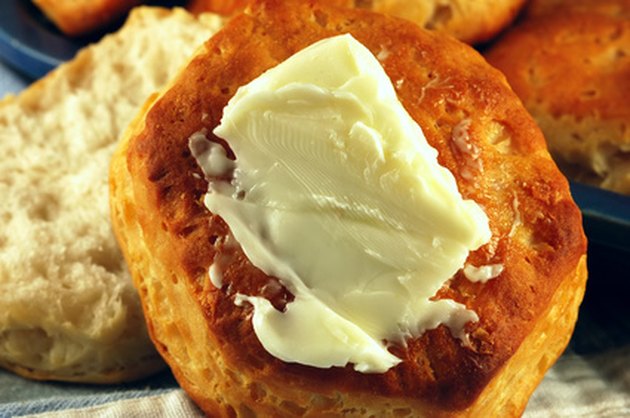 Step 1
Blot up as much of the butter as possible with a paper towel. If the stain has had time to set, use a plastic utensil to scrape away any liquid butter that may have hardened on the surface of the fabric.
Step 2
Hold the stained area under hot running water to help rinse away as much of the butter as possible.
Step 3
Lay the garment flat with the stain facing up.
Step 4
Squeeze a grease-cutting dish soap liberally over the stained area and work it into the fabric with a clean cloth.
Step 5
Allow the dish soap to sit on the stain for 10 to 15 minutes.
Step 6
Launder the garment with a bleach-free laundry detergent in the hottest water allowable for the garment.
Step 7
Add a cup of white vinegar to the rinse cycle.
Step 8
Remove the garment from the washing machine and visually inspect it to see if the stain persists. If it does, repeat the process before putting the garment in the dryer.