Things You'll Need
Dishwasher detergent

Chlorine bleach

Solvent-based detergent
Tip
Candles can cause staining in fabrics exposed to their smoke. Use beeswax candles to keep this problem to a minimum. Also keep candle wicks short, cutting them down if necessary so the candles create less smoke. Low quality paraffin candles or scented candles should be used as rarely as possible.
Warning
If the fabric is delicate, don't attempt to remove carbon stains yourself. Use a professional laundry service. Also, if soot has come directly into contact with the laundry, be very careful when using chemical cleaners. Solvent-based cleaners mixed with soot can create a substance similar to India ink; you will be making the problem much worse, possibly even impossible to fix.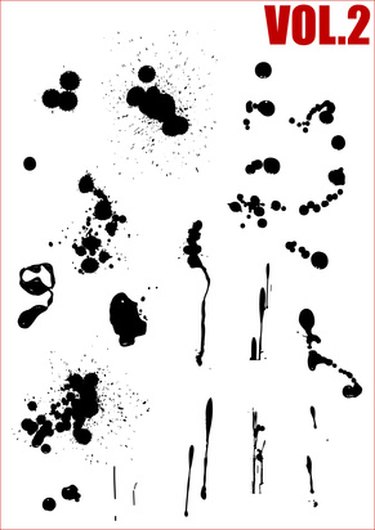 Carbon stains can be very stubborn to remove as carbon particulates bind with the fibers in laundry. Carbon black, found in India ink and some permanent markers, is likely to make a stain so ingrained that you will not be able to remove it, but milder carbon stains, caused by smoke and exhaust fumes (if you live near a road), for instance, can be got out of laundry with some careful treatment.
Using Dishwasher Detergent and Bleach
Step 1
Check that the fabric is washable, not dry clean only.
Step 2
Dissolve 1 cup of dishwasher detergent in 8 pints of water. Soak the fabric in the solution overnight.
Step 3
Soak the fabric (if safe for bleaching) in chlorine bleach for 30 minutes before washing.
Step 4
Wash the material according to the manufacturer's instructions.
Using a Solvent-Based Cleaner
Step 1
Wet the whole area affected by the stain with a solvent-based emulsifier like those often used in dry cleaning. Pay particular attention to the most deeply stained areas. Spot treat those areas heavily with the solvent-based detergent.
Step 2
Leave overnight, if possible, or for a couple of hours at least, to let the detergent interact with the stain.
Step 3
Wash the fabric as specified in the manufacturer's instructions.
Step 4
Repeat the process if the stain is not fully removed.
---
Steve Sparkes started writing professionally in 1982. He was a journalist and photographer for "The New York Waste" magazine for a decade. Sparkes has a diploma of art and design and a Bachelor of Arts in history of art from the South-East Essex School of Art. He also has a Master of Arts in photography from the London School of Printing and Graphic Arts.