Things You'll Need
Pool felt cleaner

Bleach

Pretreater for clothes

Sponge

Pool-table brush

Cue cleaner
Tip
Be sure to use only those products designed for pool-table felt and pool cues to remove pool cue chalk.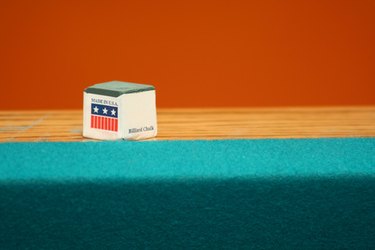 The stains from pool cue chalk can be quite annoying and can get everywhere if you or your fellow pool player aren't careful. Chalk can get on your clothes, your pool cue or your pool-table felt. Pool cue chalk can't just be wiped off; it has to be cleaned in order to be completely removed from whatever surface it gets on. Luckily, it can be easily removed when you use the correct method for the surface.
Step 1
Brush off your pool table with a felt brush. Brush toward the pockets.
Step 2
Spray a pool-table felt cleaner on half of the table. With a towel, carefully wipe up the foam. Be sure not to scrub or rub the felt. Continue with the other half of the table.
Step 3
Moisten a washcloth and put cue cleaner on the cloth. Carefully slide the washcloth up and down your cue.
Step 4
Moisten a clean washcloth and rub it up and down your cue, removing all of the cleaner. This will remove any chalk that may have settled on your cue. Dry your cue with another washcloth.You can add a small amount of bleach to your washcloth to remove the chalk on the ferrule of your cue. Be careful to not touch the tip or the shaft with the bleach rag.
Step 5
Rub any clothes spots that may have pool chalk on them with a sponge and water. Add a drop of stain pretreater to the chalk spot and rub with the sponge. Rinse the spot and repeat until the spot disappears. You can also use a drop of bleach if the spot is on a bleach-proof fabric.