Things You'll Need
Woolite Rug Stick

Woolite Heavy Traffic Rug Cleaner

Vacuum

Warm water

Woolite Extra Delicates Care

Sponge

Scrub brush
Tip
Always test a hidden area of your rug with a cleaning method before trying a visible section, to avoid damage.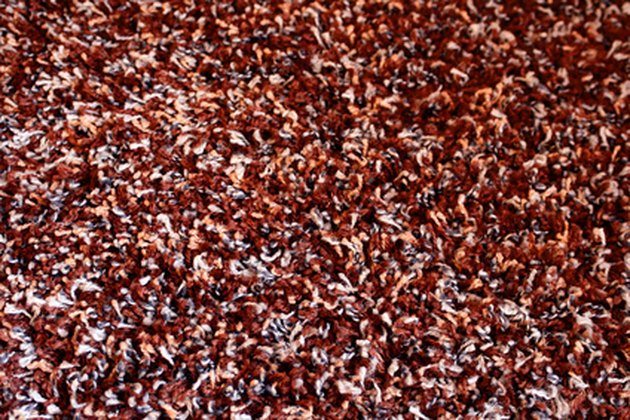 Woolite is a fabric detergent formulated to be gentle. It also prevents pilling and fiber damage that other fabric-care products can cause. It is used to clean delicate garments either by hand or in your washing machine. Because of its gentle nature, it makes an ideal cleaning solution for rugs as well. If you want to gently clean a soiled rug, either spot clean with Woolite detergent or use the Woolite Rug Stick with Woolite Heavy Traffic Rug Cleaner.
Rug Stick
Step 1
Move the green switch on the Woolite Rug Stick to the lock position. This prevents the cleaning solution from spraying out while you are attaching it to the stick.
Step 2
Remove the lid from the can of Woolite Heavy Traffic Rug Cleaner. Shake the can well.
Step 3
Insert the can upside down, with the application end pointing down, into the stick. You will hear a click when it is appropriately secured.
Step 4
Move the green switch on the stick to the spray position.
Step 5
Place the stick on your rug with the brush facing upwards. Pull the stick toward you to release cleaning foam.
Step 6
Turn the stick over so that the brush is pointing downward. Move the brush back and forth over the foam to rub it into the carpet. Move the brush in different directions to thoroughly clean the area.
Step 7
Work in small areas, repeating Steps 5 and 6.
Step 8
Allow the foam to dry completely. Vacuum the cleaned area to remove dried residue. If necessary, repeat Steps 5 and 6 for heavily soiled areas.
Step 9
Use warm water to rinse the rug stick. Move the green switch back to the lock position before storing the stick.
Woolite Detergent
Step 1
Mix 1 tbsp. Woolite Extra Delicates Care into 1 gallon warm water.
Step 2
Dip a sponge into the Woolite mixture and gently rub the soiled area using circular motions. Wet the spot but do not soak it. For heavily soiled areas, use a scrub brush.
Step 3
Leave the Woolite mixture on the rug for 15 to 20 minutes.
Step 4
Use a clean, dry cloth to soak up excess liquid.
Step 5
Leave the spot to air dry. Repeat the entire process as necessary.
---
Erin Ringwald began writing in 1998. She runs her own party planning business and helps with her husband's photography business. She's working on her Master of Education with a focus on elementary education and child development. Ringwald studied musical theater and later obtained a Bachelor of Arts in English literature from Wright State University.