The smell of cat urine is a strong, offensive odor that can be difficult to eliminate. Whether the smell of cat urine is left when your feline refuses to use the litter box or has sprayed to mark his territory, the pungent smell can linger for a long time, even after you have cleaned the spot. You could contact a professional to come clean your home but this could be expensive. The other option is to clean it yourself using home products that will effectively remove the offending smell.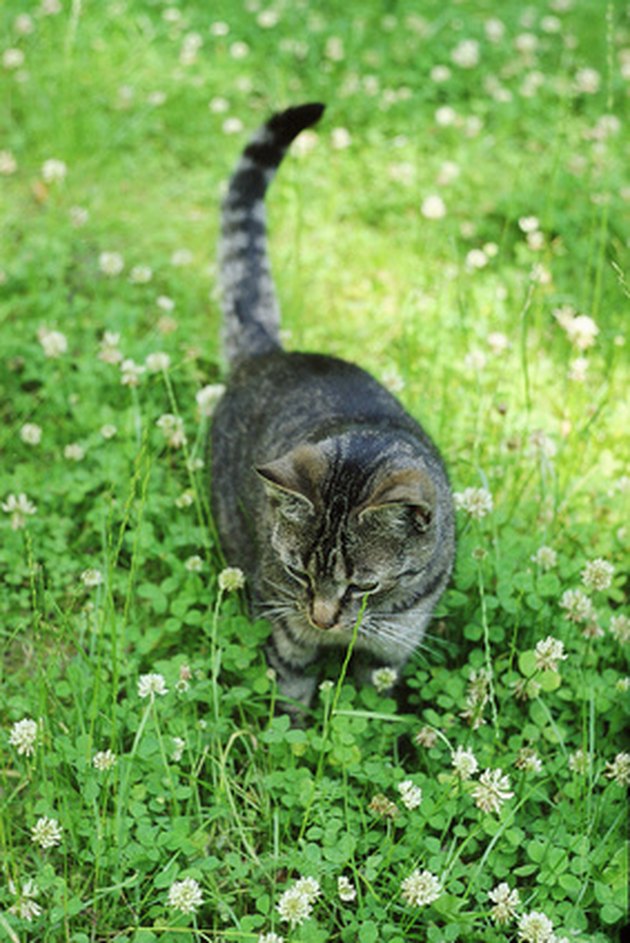 Step 1
Make a cleaning solution by placing 1 part water and 1 part white distilled vinegar in a plastic spray bottle.
Step 2
Spray the vinegar solution onto the urine spot. You want the spot fully saturated. Leave it to soak in until it mostly dry. You do want it to still be damp, so do not allow it to dry completely.
Step 3
Sprinkle baking soda over the spot until it is completely covered in a thin layer.
Step 4
Make a second cleaning solution by mixing together 1 tsp. liquid dish detergent and 1/4 cup hydrogen peroxide. Pour the dish detergent mixture directly onto the baking soda you added in Step 4.
Step 5
Use an old toothbrush to rub the dish detergent mixture into the baking soda. You want to completely dissolve the baking soda.
Step 6
Allow the baking soda spot to completely dry before vacuuming it up.
Step 1
Add 1 cup of hot water and 5 drops of disinfecting mouthwash to a squirt bottle. Shake to mix.
Step 2
Squirt the urine spot with the mixture you made in Step 1. Saturate the spot completely.
Step 3
Allow the mouthwash mixture to dry completely.
Step 4
Repeat Steps 2 and 3 as necessary.