Things You'll Need
Iron

Spray bottle

Washcloth

Soft-bristled brush
Tip
If the ironed fleece appears shiny, spray a 50/50 mixture of water and vinegar on the fleece and rub it with a soft-bristled brush.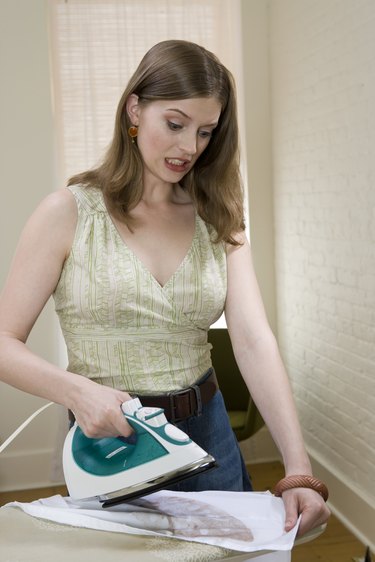 Polyester fleece is generally wrinkle-resistant. However, if you wash your fleece and forget about it until it dries on its own, balled up in the washing machine or the dryer, you may pull out a wrinkled mess. The best choice is to wet the fleece and smooth out the wrinkles by hand. Polyester tends to melt when ironed and fleece tends to mat, so any wrinkles that can be removed without heat should be. Unfortunately, sometimes you need to leave the house in a hurry. You can iron polyester fleece when necessary, but you should not try to use more heat than recommended to speed up the process.
Step 1
Warm your iron on the lowest setting.
Step 2
Spray the fleece lightly with water. Do not use the steam setting; it will be too hot for the fleece.
Step 3
Lay a washcloth over the fleece to protect it from the heat.
Step 4
Iron the fleece, checking frequently to avoid over-ironing and melting the polyester. Because of the low heat setting, it may take several minutes to remove isolated wrinkles and 15 minutes or more for an entire garment.
Step 5
Restore the nap of the fleece by brushing it with a soft-bristled brush. The ironed area will appear flattened compared to the rest of the fleece.
---
Transplanted Yankee Erin Watson-Price lives in Birmingham, Ala., and has been writing freelance articles since 1997. She worked as writer/co-editor for Coast to Coast Dachshund Rescue's newsletter, "The Long and the Short of It." In 2007 she obtained a certification as a copy editor. Watson-Price holds a Bachelor of Arts in creative writing from Southern Illinois University-Edwardsville.