Tip
To keep the mink fur coat clean, avoid wearing perfumes and lotions while wearing a it. You cannot remove the oils from these products at home without damaging the fur. Additionally, alcohol in perfumes can cause the hairs to dry out and break. You can wear a neck scarf between your skin and the neckline of the coat to prevent oils, lotion or sweat from getting on the fur.
Store your fur in a cool dry place at all times and never cover it in a garment bag. This will keep the air circulating around the coat and prevent odors and rancidity. If you live in a climate that is hot and humid, consider having your fur professionally stored in the summer months.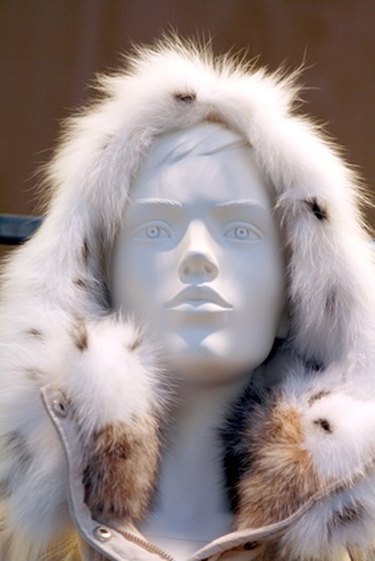 Fur coats are expensive and, unlike most delicate garments, they require a more specialized cleaning than a dry cleaner can provide. Mink coats are the most common type of fur coats, according to the Fur Information Council of America. Because they are outerwear, they have frequent exposure to elements like rain, snow and dirt and require the proper care at home to keep them looking like new for life.
Step 1
Shake off any excess water and brush the coat with your fingers only, if the mink fur coat rain or snow soiled your garment. Hang the coat to dry completely and use broad hangers that aren't made of wire to keep the shape of the coat intact and without stress. Towel drying, blow drying or brushing with tools will only harm the integrity of the fur.
Step 2
Allow any stains on the mink fur coat to dry thoroughly before attempting to remove them. If the coat is muddy or encrusted with road salt, for example, let the stain dry and the shake it off or lightly vacuum it away.
Step 3
Lay the fur coat flat and apply sawdust to the affected area, if the fur coat came in contact with grease or an oil. Allow the sawdust to sit for an hour and then vacuum the dust off. The sawdust will absorb much of the grease as well as any accompanying odors.
Step 4
Bring your fur to a professional furrier who offers fur cleaning at least once a year. Fur cleaning is a very specific process that uses large pieces of equipment not available to the general public. Typically, the furrier will place the fur in a large steel drum with sawdust to remove grime and oils and then the furrier removes the sawdust. If the fur is white mink, a furrier may use special whitening agents; fur coats of all colors will receive a coat of shine-enhancing agents.
---
Nicole Papagiorgio has been writing professionally since 2005. She is a blogger and freelance writer based in Canada and has been published in the "National Post," "Ottawa Citizen" and "Vancouver Sun." Papagiorgio has an associate degree in journalism from Algonquin College in Ontario.