Things You'll Need
White vinegar

Spray bottle

Sponge

Microfiber towel

Baking soda

Squeegee
Tip
The fat from bar soaps contributes to soap scum. Try switching to shower gels and liquid soaps.
The smell associated with vinegar eventually fades.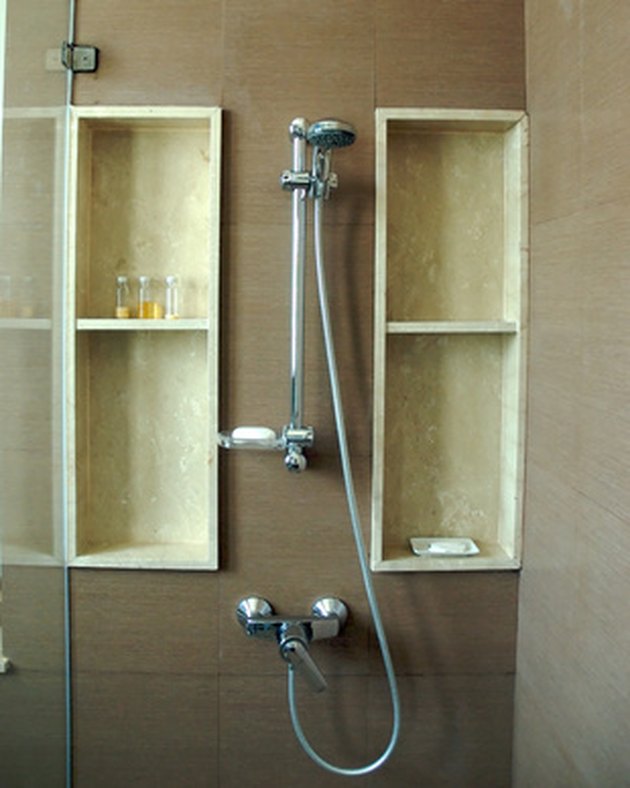 Soap scum is a film that often appears in tubs and showers. When left unattended, it can cause a visible haze to form on shower doors and can detract from an otherwise clean and attractive bathroom. Trying to remove soap scum is often a frustrating task and if left for long periods it can seem almost impossible to remove. If you have this problem, many removal methods are available. The best way to clean soap scum, however, is simple and free of harsh chemicals.
Step 1
Take a hot shower. The heat and steam from the shower will soften the soap scum and make it easier to clean it from your shower doors.
Step 2
Pour undiluted white vinegar into a spray bottle. Thoroughly spray the entire surface of the shower door with the vinegar. Allow it to sit for 10 to 15 minutes.
Step 3
Wet a sponge with hot water. Pour baking soda directly on the sponge and use it to rub down the surface of the shower door. The combination of the baking soda and vinegar will fizz on contact. Use the sponge to rub the baking soda in a circular motion while applying pressure as you move from top to bottom. Apply more baking soda as needed.
Step 4
Spray the shower door with warm water to remove all traces of the vinegar and baking soda. Wipe it dry with a paper or a microfiber towel.
Step 5
Remove any remaining soap scum from the door by creating a paste of three parts baking soda and one part plain water in a bowl. Re-wet your sponge and scoop up the paste. Apply it directly to the surface of your shower door. Allow it to sit for several minutes before spraying with vinegar and rubbing with circular movements in the same manner as before. Rinse well and dry thoroughly.
Step 6
Run a squeegee over the shower door after every shower to prevent soap scum from adhering and building up.
---
Mai Bryant is a Northern California writer who specializes in writing about health-related topics, fashion and relationships. She began writing online in 2005 but has freelanced privately for more than 10 years. Bryant's eclectic professional background as a medical technician, a licensed cosmetologist, copywriter and event planner allows her to write with authority on numerous topics.