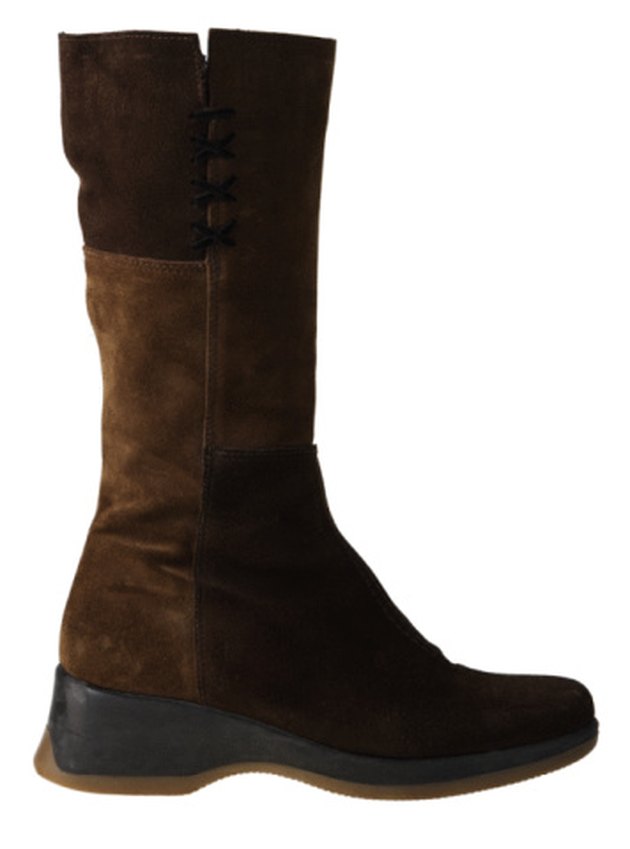 Suede is beautiful to behold and luxurious to wear. It is also, unfortunately, a bit of a challenge to keep clean. The velvety surface scuffs easily, leaving unsightly marks that can be difficult to remove; additionally, suede items are not washable, therefore, home cleaning methods can be time-consuming as they may require multiple applications of dry materials. However, most home cleaning methods are simple, effective and inexpensive, allowing suede owner to keep their items spot-free while eliminating the need for pricey trips to the cleaners.
Dirt
To remove dust, sand and dried-on dirt from suede, rub the soiled surface with a dry bath towel. Brush in one direction, moving with the nap of the suede. The various textures chafe when rubbed together, generating a light amount of friction and removing small particles of dirt in the process.
Spills
Should someone spill something on your blue suede shoes, do not panic. Blot up as much of the offending substance as possible, then sprinkle a thick layer of a naturally absorbent material over the affected area. Use whatever happens to be close at hand: baby powder, cornstarch, baking soda or talcum powder. Wait 30 minutes, then brush the powder off. Repeat the process, until the stain is no longer visible.
Stubborn Stains
Persistent stains can be treated with materials that are mildly abrasive. Use an emery board, art eraser or small piece of sandpaper to buff the discolored portion of the suede, then hold the item over the steam from a small pan of boiling water for 30 seconds. Wait for the suede to dry and repeat, if necessary.
Spot Remover
Certain stains, such as grass and grease, are particularly difficult to remove, regardless of the underlying material. Rather than toss an otherwise-stunning suede item in the trash, rub the stain with a soft sponge that has been dipped in glycerin; stroke the damaged area gently, working with the natural nap of the suede, until the stain is no longer visible. Remove the glycerin by blotting the suede with a paper towel that has been soaked in distilled white vinegar. Allow the item to dry, then restore the nap of the suede by buffing it lightly with a clean toothbrush.
---
Lisa Parris is a writer and former features editor of "The Caldwell County News." Her work has also appeared in the "Journal of Comparative Parasitology," "The Monterey County Herald" and "The Richmond Daily News." In 2012, Parris was honored with awards from the Missouri Press Association for best feature story, best feature series and best humor series.