Moths come in more than one variety, and can do a great deal of expensive damage. Most of us are familiar with moths that eat various types of fabric, which are called "clothes moths," according to ePet Supply, but some also eat stored food items and are called "grain moths." Both types and their larvae can be a challenge to deal with once infestation occurs, but pesticides and traps can be effective, depending upon the type of moth.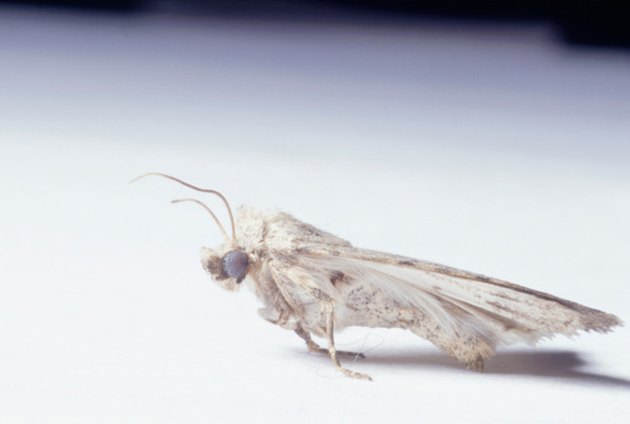 Step 1
Buy traps for moths that infest stored foods in the kitchen. Pesticides are not necessary, according to Pest Control Solutions, and are dangerous to use in the kitchen. Lures and traps are a better solution. Pest Control Solutions suggests one of three types of traps, depending upon the location and severity of the infestation: the allure trap, the moth suppression trap and the pantry patrol trap.
Step 2
Open the traps. Do this for all varieties by pulling in the opposite directions along the tops and bottoms of the seams, to form open-ended rectangular tubes. Bait each glue trap by placing one male and female attractant wick -- pheromone or egg-laying attractant lure -- on the glued surface, according to Pest Control Solutions.
Step 3
Attach hangers to the traps and place them about head-high. Place the traps at intervals of one to two traps per 1,000 feet. You can also use traps outdoors. Pest Control Solutions recommends placing them about 50 to 75 feet away from the building.
Step 1
Sanitize areas infested by moths that feed on cloth. According to The Bug Clinic, this may involve vacuuming carpets and having clothing dry-cleaned or storing them in sealed plastic bags or totes. This removes sources of food for the moths. Using totes with lids eliminates the need for mothballs or flakes.
Step 2
The Bug Clinic advises using a spray insecticide such as Allpro to treat edges and corners of clothes closets, closet shelves and any crevices. Buying pheromone traps can also aid in monitoring clothing moth infestation, but The Bug Clinic considers this a conservative measure.
Step 3
Use non-residual spray for spot treatment, says e-Pest Control. In cases of furniture infestation, it is better to use a dust application, such as TriDie. This provides long-lasting control and will not require time to dry.