Things You'll Need
Plastic container with lid

1 cup Epsom salt

1 cup sea salt

1/2 tsp. glycerin

1 tsp. almond oil

10 drops of lavender essential oil

5 drops of purple colorant
Tip
Peppermint, eucalyptus or rosemary essential oils can be used in place of the lavender essential oil.
Any color colorant can be used, but try to match it with the scent.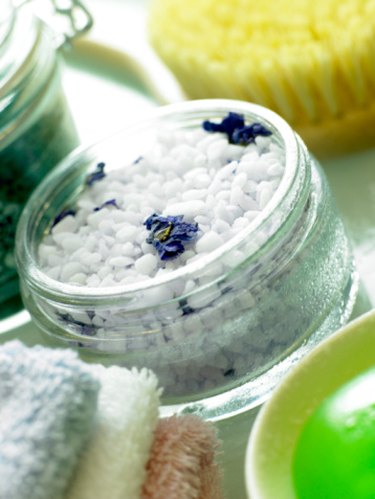 Not only does hard water prevent soap from lathering appropriately, but it leaves a nasty film around the inside of your bathtub. This can be prevented by using bath salts to soften the water in your tub. According to the website Home Science Tools, bath salts soften the water when the sodium and potassium ions replace the calcium and magnesium ions in the hard water. Bath salts don't have to be purchased from a store in order to be effective at softening the water. You can make your own right at home.
Step 1
Mix 1 cup of Epsom salt and 1 cup of sea salt together in a plastic bowl. The bowl should have a lid to go along with it so you can properly store the bath salts until you need them.
Step 2
Pour 1/2 tsp. of glycerin and 1 tsp. of almond oil over the combined salts and mix.
Step 3
Drip 10 drops of lavender essential oil over the salts to give them a pleasant scent. Lavender also is relaxing, which makes for a nice addition to any bath. Toss to get the scent throughout.
Step 4
Color your bath salts to match the lavender scent by dripping in 5 drops of purple colorant. Colorants can be found at any craft store, as well as some department stores. Mix one last time.
Step 5
Measure out 1/4 of a cup of the salts each time you take a bath. Pour in the bathtub as the water is filling up so that they are stirred in the water naturally.
---

Alicia Bodine
Alicia Bodine has been a professional writer for 13 years. She has produced thousands of articles for online publications such as Demand Studios, GoBankingRates and WiseGeek. Bodine is passionate about gardening, travel, education and finance. She has received awards for being a top content producer.