Linen is a generic term used to describe any number of woven textiles. Technically, real linen is made from flax fibers. Inexpensive and light, linen is used to create bedding, towels, tablecloths, clothing and furniture coverings. Like other natural fibers, it is soft to the touch, giving furnishings a comfortable feel. Linen furniture will require routine cleaning to keep it looking new.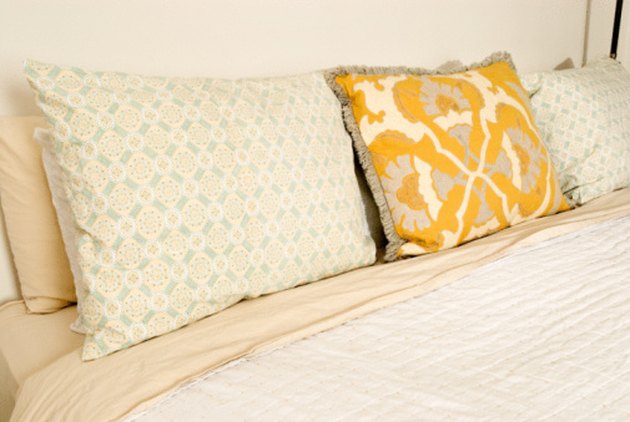 Step 1
Remove the cushions from sofas, love seats and chairs. Take the loose padding outdoors and give each piece a brisk shake to remove any dust or debris. Brush the remaining surfaces with a soft-bristled brush to loosen ground-in dirt.
Step 2
Sprinkle a thin layer of baking soda over the cushions. Wait 10 to 15 minutes, giving the baking soda time to absorb any odors from the fabric.
Step 3
Connect a brush end attachment to a standard vacuum cleaner. Sweep the brush gently over both sides of the cushions to remove the baking soda. Vacuum the stationary surfaces of the furniture, working from the top of each piece to the bottom.
Step 4
Check the manufacturer's tag for a cleaning code. The tag is generally near the base or on the edge of a cushion. "W" means the linen can be cleaned with water, "S" means it needs a solvent and "WS" means it can be cleaned with either. If the tag is marked with an "X" it must be dry cleaned.
Step 5
Wash furnishings tagged with a "W" with a mild detergent solution. Mix 1 tsp. of liquid dish-washing soap with 1 cup of cool water. Never use hot water to clean linen as this may cause the fibers to shrink. Wipe the solution over the fabric with a soft cloth, gently blotting away any stains. Sponge with cool water to rinse.
Step 6
Clean furniture marked with a "S" by spot cleaning. Moisten a cloth with dry-cleaning solvent and press the cloth gently against the fabric. Work your way from the edges of the affected area into the center, blotting up the stain as you go.
Step 7
Press clean towels against the damp fabric after the furniture has been cleaned. This will absorb excess moisture and speed the drying process.