Your bathroom shower is where you go to get clean, so it is in your best interest to keep the shower clean, too. The soaps you use to wash yourself don't clean the shower as well and, in fact, they may make the shower even dirtier. Using the right cleaning solutions and implementing some preventative maintenance measures, you can keep your shower just as clean as you keep yourself.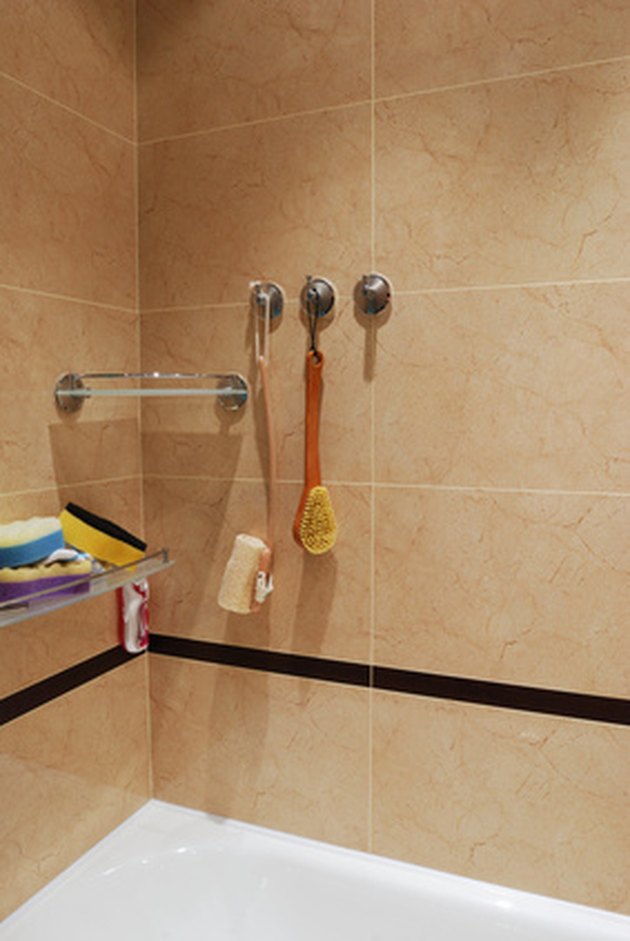 Shower curtains may attract stains, oils and dirt spots, so they must be cleaned periodically. Always follow the care instructions on your shower curtains. However, to beat particularly tough stains and deposits, try soaking the curtains in salt water before laundering them in hot water. Sprays designed for wiping down plastic surfaces are sufficient for wiping down the shower curtain liner. To clean glass doors, use a mixture of vinegar and water, then polish the glass with lemon oil to fend off future buildup.
While you can buy commercial shower cleaning sprays, you also can use household ingredients to make your own. For example, mix five parts warm water with one part chlorine bleach to create a solution for wiping down the ceiling, floor and walls of your shower. Adding 1/2 cup of ammonia to a gallon of water makes a potent solution for spraying down glass shower doors, while door tracks can soak in white vinegar to break down the buildup that accumulates inside
Removing soap scum is more time-consuming than preventing it, so take a minute every day to prevent buildup. Wipe down the walls of the shower with a squeegee or a clean towel after every shower to prevent the buildup of soap scum. If you use a porcelain tub, a light coat of wax on the sides, but not the bottom, also prevents soap scum.
The type of materials you use to clean depends on the surface, and in your shower, the varying surfaces necessitate the use of different materials. For example, use a medium-bristle brush to scrub down your shower, and after rinsing, wipe dry with a microfiber cloth . Be wary of the materials your shower is made of before you start using abrasive cleaning pads or hard-bristle brushes. Using a scratching cleaning pad in a fiberglass shower, for example, will damage the surface.