Outdoor window screens should be cleaned at least once a year. Whether you store your screens in the fall and rehang them in the spring or leave them up all year, spring is the perfect time to clean them. Clean screens allow fresh air to permeate your home or screened-in porch without accosting you with the smell of dirt that has been caked on the screens for months or years. Cleaning screens is not a difficult undertaking.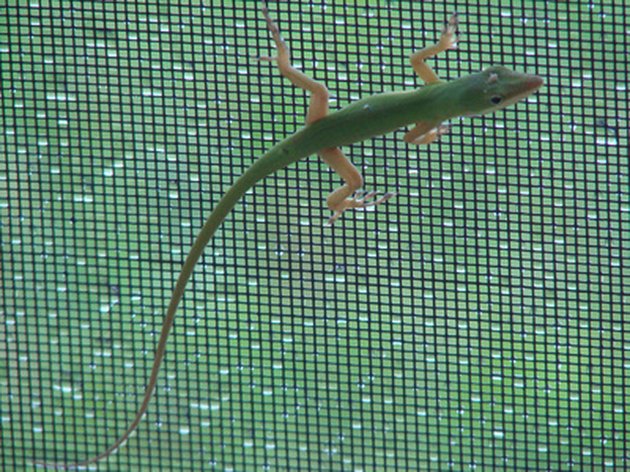 Step 1
Remove the screen from the window. Some screens have to be removed from the inside of the house, and some have to be removed from the outside. Release the screen locks before you attempt to remove the screens. The locks can be found on the outside or the inside of the screen, depending on the type of screen you have.
Step 2
Lay an old towel on a flat outdoor surface, such as a concrete driveway or sidewalk. Place the screen on top of the towel to prevent the concrete from scratching the frame of the screen.
Step 3
Spray the screen with a hose to blast some of the dirt and grime free from the tiny wires of the screen. Mist some all-purpose cleaner over the screen.
Step 4
Scrub the screen gently with a nylon brush. Avoid moving the tiny metal fibers of the screen with your scrub brush. Damaged screens can be hazardous to children and animals, and they also provide holes through which bugs can enter the home. Leave the screen outside to dry.
Step 1
Fill a cleaning bucket with water.
Step 2
Spray a biodegradable all-purpose cleaner on the window screen.
Step 3
Scrub the screen with a nylon brush. Rinse the brush in clean water periodically to avoid dragging dirt across portions of the screen that you are trying to clean.