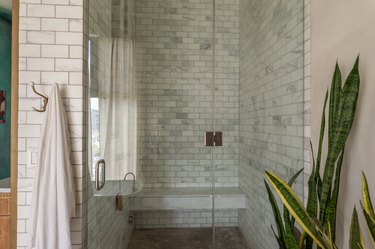 Glass showers can get cloudy pretty quickly and cleaning them can become a major pain if they aren't maintained. The film that forms on your shower is caused by soap scum build-up, and it can be difficult to remove. This tutorial will show you how to clean your glass shower doors and walls, and help you keep them sparkling for the long haul.
Hunker may earn compensation through affiliate links in this story.
Things You Need
Step 1
Mix the first five ingredients together and pour the solution into a spray bottle.
TIP: Make sure to label the bottle so it won't be used to clean other surfaces.
Step 2
Dry the shower doors completely.
Step 3
Spray liberally with the DIY cleaner and let sit for 5 to 10 minutes.
Step 4
Use a microfiber cloth to wipe the shower doors clean.
EXTRA TIPS
If your shower doors are especially dirty, use a damp Mr. Clean Magic Eraser to help remove any soap scum build-up, then rinse well.
Once you have thoroughly cleaned your shower doors, keep the cleaner in your bathroom and spray down your doors in between showers. There is no need to scrub them — just spray them down and walk away. If you can't commit to using it between every shower, try to spray the shower doors down at least once per week to prevent soap scum from building up.
---
Jessica owns two blogs, Mom 4 Real and Pour Me a Cocktail. She has been sharing easy cleaning tips, recipes and ideas with her readers for over 7 years. She has been featured on the Rachel Ray Show, TODAY Parenting, MSN, Country Woman Magazine and more.
View Work