As you use the kitchen in your home, grease buildup is an inevitable problem, especially on your kitchen cabinetry. When cooking, grease and cooking oils splatter onto your cabinets, leaving a greasy layer of splatter marks behind. To get rid of the grease buildup, buying expensive commercial cleaners is an option, but in reality you only need to use a few low-cost ingredients that are already in your kitchen.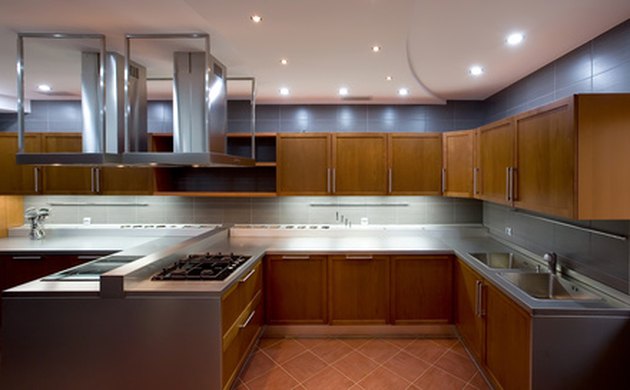 Step 1
Fill your kitchen sink with hot water.
Step 2
Pour 2 tbsp. dish soap and an optional 1/4 cup white vinegar into the sink per gallon of water used. The vinegar is a disinfecting agent that cuts through heavy grease.
Step 3
Saturate a cleaning rag in the water, and wring the cloth out.
Step 4
Wipe the soapy cloth over your kitchen cabinets, scrubbing as needed until all grease is removed. Rinse the cloth in the soapy water as needed.
Step 5
Drain your sink, rinse the sink out and refill with plain hot water.
Step 6
Submerge a clean cloth in the water, wring out again, and wipe over the cabinets. This removes any leftover dish soap or vinegar.