Things You'll Need
Essential oil (citrus variety)

Laundry detergent

Washer

Dryer

Old towel

Baking soda

Jar with lid

Vacuum

Water

Decorative bowl, pitcher or vase

Large spoon
Tip
For best results, use organic essential oils.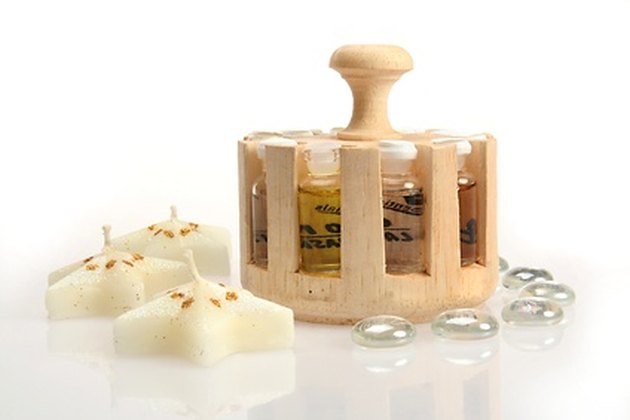 Essential oils are made from the leaves, stems, roots or flowers of a plant. Although the term for this liquid is oil, they are not really oily at all. One important thing to remember about essential oils is that they are highly concentrated so you don't have to use more than a few drops to get the full fragrance of the plant or flower. The most popular essential oils include sage, eucalyptus, patchouli, orange, lavender, lemon, mint and tea tree. The oils are an eco-friendly way to remove smoke odor from clothes, carpet and the air.
Clothes
Step 1
Place the smoky clothes in the washer and start the wash cycle. Once the laundry tub has filled up with water, add two drops of citrus essential oil to a cap full of laundry detergent. Pour into the wash water.
Step 2
Dry the clothes on low to medium heat. Drying on high heat will scorch the oil.
Step 3
Apply a few drops of citrus oil to an old towel (one you don't mind getting stained) to eliminate smells in the dryer if you are unable to wash your clothes. Place the towel with the oil in the dryer with the smoky clothes. Dry on low to medium heat.
Carpet
Step 1
Fill a jar with 2 cups of baking soda. Add two to three drops of citrus essential oil. Replace the cap, and shake well to mix.
Step 2
Sprinkle the mixture on the smoky carpet, and let sit for several hours.
Step 3
Vacuum well to remove all of the baking soda.
Air
Step 1
Pour 4 cups water into a decorative bowl, pitcher or vase. Add 20 drops of citrus essential oil.
Step 2
Mix well with a spoon. Place the decorative bowl, pitcher or vase in a room where the smoke smell is strong.
Step 3
Replace the water/essential oil solution as needed, or when you can no longer smell the citrus.
---

Jess Jones
Jess Jones has been a freelance writer since 2005. She has been a featured contributing writer for "Curve Magazine" and she teaches English composition at a small college in Ann Arbor, Michigan. She received her Master of Arts in English language and literature in 2002.