Things You'll Need
Broom

Bucket

Mild wool laundry detergent

Natural-bristle brush

Hose

Protective spray
Tip
Stir lemon juice and table salt together to form a thin paste. Apply the paste to mildew stains on canvas. Allow it to dry, then brush it off to remove the mildew.
Clean your canvas trailer before each use and every time you break down camp. Leaves and other debris left on the canvas when it's folded up cause stains and encourage mold and mildew development.
Warning
Never fold down the canvas trailer when it's wet. If this is unavoidable because of the weather at your scheduled time of departure, then open the trailer as soon as possible to allow the canvas to dry.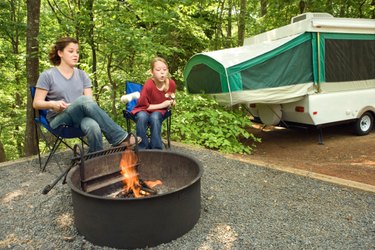 Tent trailers are popular for campers who like to rough it while still having some of the luxuries of home. The trailer portion provides extra protection from inclement weather, along with basic kitchen implements and a bug-free place to rest or eat. Sitting outdoors beneath the canvas tent portion of the trailer is enjoyable but not when the canvas is dirty and stinky. Regular maintenance keeps the canvas clean, which, in turn, helps the material to last longer.
Step 1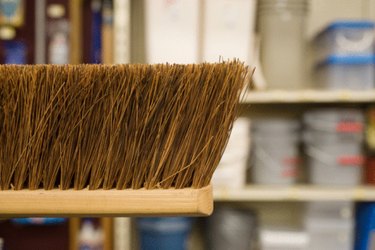 Brush leaves, dirt and debris off the canvas with a broom. If the canvas material is wet, allow it to dry fully in direct sunlight. Brush the surface again to remove any mold and mildew spores.
Step 2
Mix 2 caps full of mild wool detergent with 1 gallon of warm water. Submerge your natural-bristle brush in the mild detergent solution and scrub the canvas surface to remove dirt and stains.
Step 3
Rinse the canvas trailer with a hose until all the detergent is washed off. Allow the canvas to air-dry completely.
Step 4
Apply a protective spray to the canvas to provide a water-resistant coating that keeps water out of the trailer and reduces the formation of mildew. Follow package directions to apply the spray in an effective manner.
---
Mary Ylisela is a former teacher with a Bachelor of Arts in elementary education and mathematics. She has been a writer since 1996, specializing in business, fitness and education. Prior to teaching, Ylisela worked as a certified fitness instructor and a small-business owner.