Things You'll Need
Paper towels

Newspapers

1 cup hydrogen peroxide

1 tablespoon baking soda

Liquid dish-washing soap
Warning
Avoid steam cleaners, which set stains, according to the Humane Society.
Avoid harsh chemical products that mask urine odor without eliminating it. This may attract your cat back to the spot for a second round of urination.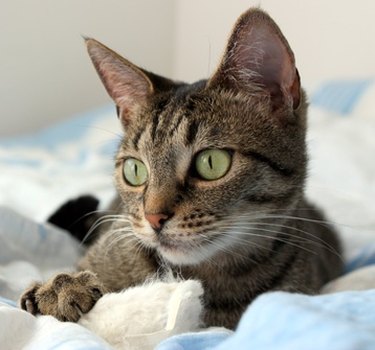 Your cat may be a beloved companion, but even the most well-behaved cat can sometimes have an accident. If your cat urinates on your sofa, the smell often lingers, even after you've cleaned the spot. Worse yet, cats may return to the site of previous accidents to urinate again. This makes getting rid of the stain crucial. Fortunately, rinsing the cushion thoroughly and applying deodorizing products should restore your cushion to its previous condition.
Step 1
Set paper towels and newspapers on the spot. Press on them to soak up the urine.
Step 2
Sponge the area thoroughly with cool water. This will ensure that all traces of urine are gone.
Step 3
Blot the area with paper towels to remove as much of the water as you can. If necessary, allow the cushion to air dry overnight. Prop it up against a wall if the water has soaked through to the other side.
Step 4
Mix 1 cup hydrogen peroxide, 1 tablespoon baking soda and a squirt of liquid dish-washing soap to create a homemade deodorizer.
Step 5
Dip a paper towel into the deodorizer and apply it to the cushion. Rub gently if desired. Be careful not to damage the cushion with rough rubbing.
Step 6
Sponge warm water onto the area to wash away the deodorizer. Allow the cushion to air dry overnight.
---
Ashley Mackenzie has been writing professionally since 2009. Her travel, consumer-related and instructional articles are regularly published online. She holds a Bachelor of Arts degree in literature and history.