Things You'll Need
Dish detergent (phosphate-free)

Glass cleaner

Sponge

Cloth or paper towels

Baking soda (optional)

Olive oil (optional)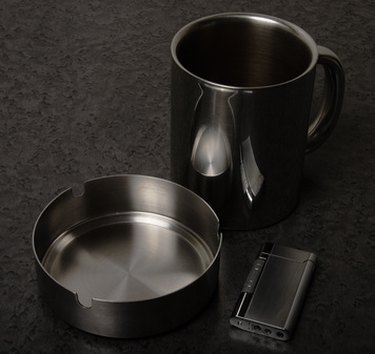 Stainless steel is a durable material, but it can become pitted if it is not maintained properly. This may happen when using a strong cleaner such as bleach. If your stainless steel is lightly pitted, it is still usable. The cleaning process is the same regardless of the condition. Never use any harsh or abrasive products to avoid damaging the finish, and always rinse and dry well after cleaning.
Step 1
Clean your stainless steel using a sponge and warm, soapy water. Rinse well under clean water and dry.
Step 2
Apply baking soda to cover the stainless steel. Buff the surface using a dry cloth or paper towel. This will lightly polish and deep-clean without damaging the finish. Rinse well and dry.
Step 3
Spray with glass cleaner and wipe with a dry paper towel or cloth.
Step 4
Apply a few drops of olive oil to a cloth and apply to hide any scratches. Make sure there is only a very thin coat, and wipe off any excess.
---
Melissa Rae has been a writer since 2008, specializing in home-and-garden, business, technology and education topics. Rae holds a Bachelor of Science in business administration from Herzing University.