Tip
Check with your city or town to see if they recycle mattresses or can lead you to a local recycler.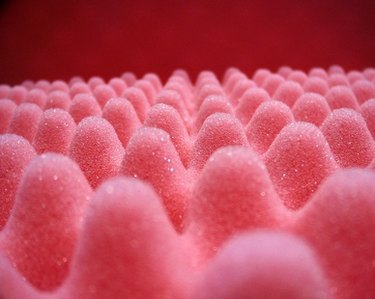 Foam mattresses include plush mattress toppers as well as memory foam mattress products. These items eventually lose their signature support and comfortable texture after years of use. When your foam mattress reaches the end of its lifespan -- about 10 years on average -- don't throw it in the landfill. Planet Green notes that a good recycling center can turn 90 percent of the old mattress into usable material (including foam, fabric, springs and wood backing). Mattress recyclers are few and far between, but you have a few other recycling options to choose from.
Step 1
Contact your mattress manufacturer to see whether they have a recycling program in place. For example, eMattress offers recycling for any of their memory foam mattresses that includes a pickup from your house. If so, find out where to bring your mattress, then drop it off at the partner location or at your mattress dealer, or arrange for a pickup if available.
Step 2
Call local bed and mattress retailers in your area to see if they can help you recycle your foam mattress. Planet Green notes that, while this is rare, some retailers do recycle and can help you get rid of your foam mattress responsibly.
Step 3
Search for local foam mattress recyclers near you at Earth911. Type "Mattresses" in the search box then enter your zip code. Call companies that appear in the results list to determine when they are open, then drop off your mattress.
Step 4
Donate a foam mattress in good condition to an organization who can reuse it. Check with women's shelters, Habitat for Humanity or similar building organizations, senior centers or local thrift stores (like Goodwill Industries) to see if they can use a donated mattress. Then arrange to drop yours off.
---
A successful website writer since 1998, Elton Dunn has demonstrated experience with technology, information retrieval, usability and user experience, social media, cloud computing, and small business needs. Dunn holds a degree from UCSF and formerly worked as professional chef. Dunn has ghostwritten thousands of blog posts, newsletter articles, website copy, press releases and product descriptions. He specializes in developing informational articles on topics including food, nutrition, fitness, health and pets.