Sturdy, durable and classic, concrete flooring can add depth to an otherwise bland space. It can be stained, painted, etched or left completely alone in its natural state. A gray expanse of concrete flooring is like a canvas for decorators. With the proper amount of care and maintenance applied, the concrete floor should shine for years.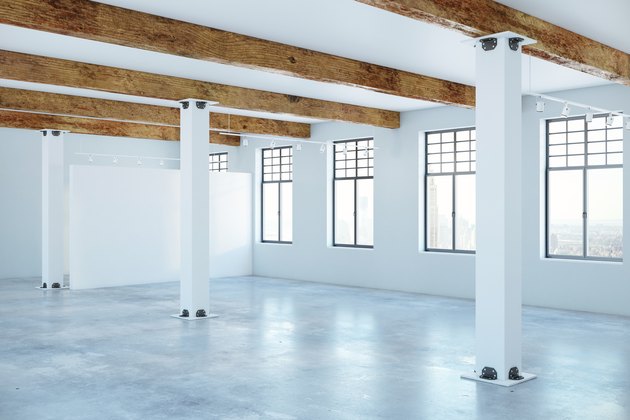 Homemade Cement Floor Cleaner
For a gentle cleaner that won't harm untreated, painted, etched or sealed concrete flooring, a mix of a gallon of warm water and one-eighth cup of dishwashing liquid should pick up any dirt that has clung to the porous surface.
For seriously dirty floors, a mix of half a cup of baking soda with a gallon of warm water and one-eighth cup of dishwashing liquid will pull up simple stains as well as grime, pollen and dust. The baking soda will also help to remove any odors, such as those that can accumulate on outdoor concrete floors.
Cleaning Untreated Concrete Flooring
The porous nature of concrete naturally attracts grime if it is left untreated. Commercial concrete floor cleaners can be used on painted or sealed as well as untreated surfaces.
Small indoor floors can be cleaned by hand or with a mop and bucket. Make sure no cleaner is left behind on the untreated concrete. This will cause issues with the sealant, either coloring or adhering to the slab of concrete.
For concrete floors that are outdoors, a pressure washer will cut down on the time and labor of cleaning concrete by hand. Grime can cling to the uneven and porous surface of untreated concrete flooring.
Sealing Concrete Floors
If the concrete is untreated, you may want to seal it to keep it from getting inadvertently stained. To keep the pristine look of a clean concrete floor, a slick of sealant or stain with a sealant will ensure the floors stay unspoiled and immaculate. Before sealing concrete flooring, it should be thoroughly cleaned with either a commercial cleaner or a homemade detergent mix.
Test the stain in an unnoticeable area to ensure it works well with the concrete and that you like the look it provides when applied. In one corner of the room, apply a small amount of the sealant to the surface of the concrete floor. Slowly work across the floor toward a doorway or entrance.
Some people make the mistake of slopping down great puddles of sealant in the middle of the floor and working toward the edges. This gives a greater chance of creating bubbles or thin patches on the surface. Always read the sealant or stain manufacturer's recommendations before you pour the product onto the concrete flooring.
Etching Concrete With Vinegar
Freshly poured concrete can be resistant to accepting paint or a protective sealant. A wash of an acid-based product such as vinegar can open the pores of the concrete floor. This will make the product you choose glide on and adhere to the concrete.
Acid etching with vinegar is easy and less labor intensive than using a machine to pretreat the concrete floor before sealing or painting. If you are working on an outdoor piece of concrete flooring, clean it of any grease. The acid can't penetrate oily patches and will leave an uneven, subpar flooring.
Vinegar has an acetic acid solution of about 4 percent. It reacts with the alkaline in the concrete.
What Not to Do
To clean an untreated concrete floor, don't use vinegar. This common household cleaner can eat away at concrete and leave behind an unwanted mark. However, this quality does make vinegar a useful tool for those who want to up the aesthetic value of a plain concrete floor with etched patterns.
This also makes it a good candidate for creating subtle patterns in bare concrete floors for those who are looking to add a bit of creativity to the floor.
---
Kimberley McGee is an award-winning journalist with 20+ years of experience writing for a variety of clients, including The New York Times, Las Vegas Review-Journal Home section and other national publications. As a professional writer she has researched, interviewed sources and written about home improvement, interior design and related business trends. She earned a B.A. in Journalism from the University of Nevada, Las Vegas. Her full bio and clips can be viewed at www.vegaswriter.com.
View Work