Things You'll Need
Baking soda

White vinegar

Small bowl

Scrub brush

Water

Small cup
Tip
Hydrogen peroxide may be used instead of vinegar. Cream of tartar may be used instead of baking soda.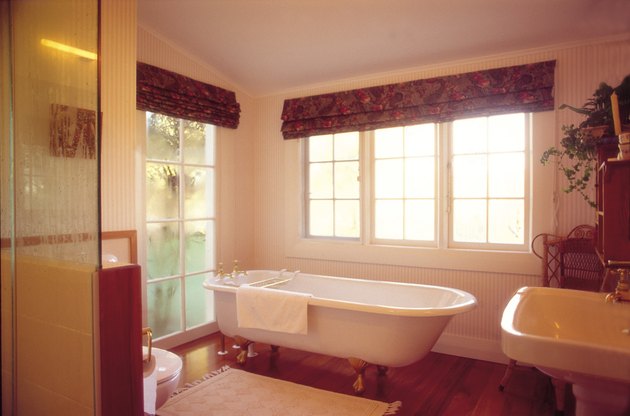 A clean bathtub is important for health, personal hygiene and the aesthetics of your home. White bathtubs, however, can get dirty and stained until it seems that they will never be sparkling white again. Commercial bathroom cleaners can clear away the grime, but they are expensive and often contain hazardous chemicals. To keep your bathtub sparkling clean, all you need is a little baking soda and vinegar. In no time, the bathtub will shine like new.
Step 1
In a small bowl, mix 1/4 cup of baking soda with 1/4 cup white vinegar.
Step 2
Stir the baking soda and vinegar mixture until it forms a grainy paste. Add more vinegar or baking soda as needed.
Step 3
Dip a damp scrub brush into the baking soda paste and scrub the bathtub vigorously with it.
Step 4
Rinse the scrubbing mixture off the bathtub, filling a small cup with water and using it to rinse off all sides.
Step 5
Repeat the process, if necessary, to get out extra tough stains.
---
Courtney Clark studied English, creative writing, film and history at Southern Virginia University from 2005 through 2008, earning a Bachelor of Arts. During her time at SVU, Clark participated in the English Honors Society and the university's film club.