Forget the dream of a no-scrub grout cleaner you can whip up yourself at home. Do-it-yourself grout cleaner recipes are all over the internet, with recipes that include a range of ordinary household products like vinegar and hydrogen peroxide. Some of them work okay, some of them don't, and some of them work really well. But all require some scrubbing action. That's no big surprise. Even the roughest, toughest commercial grout cleaners operate with a little elbow grease.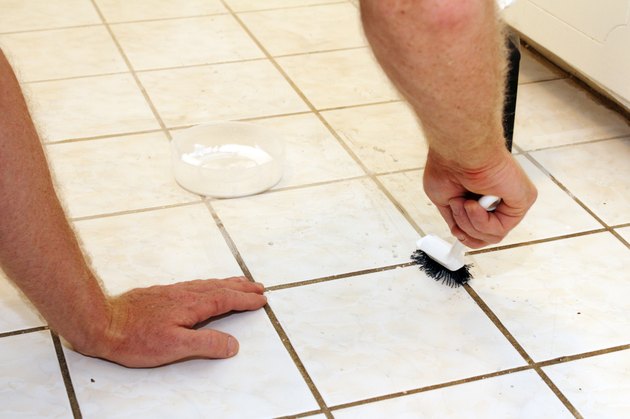 credit:
Serenethos/iStock/GettyImages
The Best Way to Clean Grout
Tile for bathrooms, kitchens and floors is a tough product, smooth and hard and waterproof. But the stuff you put between the tiles – that goo that hardens into grout – is not. It's porous and easily picks up stains and dirt.
Wherever you have tile, you have grout, and even as you read this, it is getting dirty. Grout picks up dirt on the floors, spaghetti sauce on the kitchen counters and soap slime and mold in the shower. When you move into a new apartment or house, one of the first things you will notice is how clean the property managers or previous occupants left the grout. Because nothing makes a room look junkier than badly stained grout.
So what's the best way to clean grout? There are lots of do-it-yourself grout cleaner recipes that can help you out of the dirty-grout blues, but not every homemade mixture will actually work. You have to experiment. Here's a run-down on different DIY products to try, but you'll have to do a little scrubbing for any of them to work.
The mildest of the mild grout cleaners is simple H2O. And it's a good place to begin your cleaning no matter what other products you end up using. Use a brush designed for grout cleaning and scrub in a circular motion. Vinegar is the next step. Spray a mix of one part vinegar, one part water on the grout. Five minutes later, scrub it off. For more cleaning power, smear a mix of baking soda and water on the grout first, then use the vinegar mix. You still have to scrub with the brush.
The next level of DIY grout cleaners works for moderate stains. The product to use for these stains is hydrogen peroxide, available over the counter in many drug stores. Apply the product to the grout directly, then scrub. Alternatively, you can mix it with baking soda for some "grit," then apply it to the stained grout.
Using Bleach to Clean Grout
The bigger guns in DIY grout cleaning are bleaches. If your stains are hanging in there with the milder products, buy a powdered cleanser containing oxygen bleach. Popular brands include Clorox OxiMagic, OxiClean and Biokleen Oxygen Bleach Plus. Apply the powered cleaner as directed by the manufacturer and be sure there's an air flow in the room. The product has to sit on the grout for up to 15 minutes before you run that brush over the lines of grout, then rinse.
Chlorine bleach is not a very good product to clean grout regularly. It erodes the grout over time. But in worst-case, filthy grout scenarios, a product like Clorox Clean-Up spray can get the gunk out. And there's not much scrubbing require,d either. If this fails, you're probably better off buying a product for cleaning grout from the hardware store and using it according to label directions. One to try: Hoover Grout Plus is extremely popular and effective.