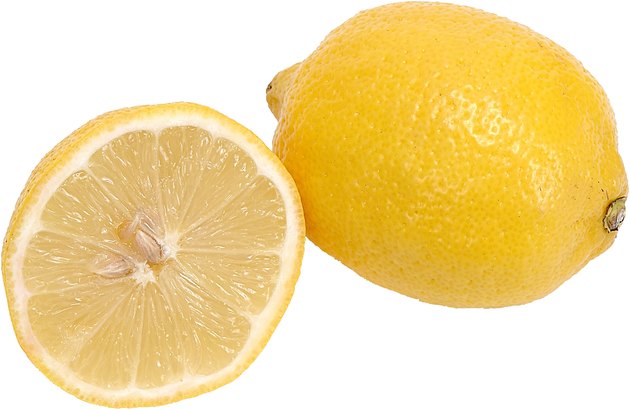 Cooking smells, closed windows and pets can make homes smell less than pleasant. While many air fresheners and cleaning products cover or remove odors, they use harsh chemicals that can be harmful, especially when inhaled. Instead, try natural cleansing and deodorizing ingredients to safely remove unpleasant odors in your home.
Lemons and Citrus
Lemons and other citrus fruits will freshen your home and eliminate odors naturally. Set out dishes of cut lemon around your home for a sweet, citrus scent. Citrus fruits smell wonderful when heated, so place lemon peel and orange peel in a small cooking pot and add water. Add cloves, cinnamon or other spices. Heat on the stove to create a warm, inviting scent in your home, recommends the "Reader's Digest" website.
Vanilla Extract
Vanilla extract isn't just for baking; use it to make your home smell delicious as well. "Reader's Digest" recommends rubbing a small amount of vanilla extract on lightbulbs when bulbs are off and cold. When the lights are turned on, the bulbs will heat up and spread the vanilla smell all around the house.
Essential Oils
Use essential oils for a sweet-smelling home. Create your own fragrance spray by filling a bottle with water and adding several drops of your favorite essential oil, suggests the website Quick & Simple. Spray around the house as needed. Alternatively, make your own potpourri by adding a few drops of essential oil to a bowl of cedar chips. Cotton balls may be used in place of cedar chips; simply add a small amount of essential oil to a bowl of cotton balls and set in your living room, bathroom or kitchen.
Vinegar
Vinegar is a natural deodorizer. Pour a small amount of vinegar in bowls and place around your home to remove unpleasant odors, suggests the website "Good Housekeeping." Alternatively, add vinegar to a spray bottle half filled with water and spray as needed throughout the home to reduce odors, including in bathrooms and the kitchen.
---
Based in the southeastern United States, Annabelle Brown began writing in 2000. She specializes in health, nutrition, education and pets. Brown holds a Bachelor of Arts in English from Virginia Tech and is pursuing a Master of Science in English from Radford University and a Master of Education at Wright State University.