Things You'll Need
Vacuum cleaner with nozzle attachment

Sponge

Paint thinner or rubbing alcohol

Mop

Mild detergent
Tip
If ventilation and replacement of air conditioning and furnace filters do not rid the home of the smoke odor, it may be necessary to have a professional fire restorer treat the home with either an ozone treatment or thermal fogging.
Warning
Do not attempt to clean smoke-damaged items before removing all visible soot and soil.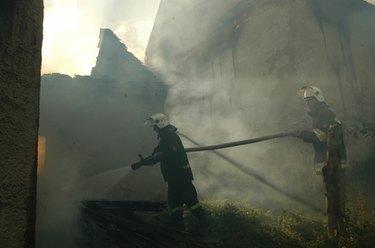 After a minor fire, often the worst damage is not done by the fire itself but by the smoke and soot. Smoke damage and lingering odors take time and careful consideration. Different materials require different cleaning methods, and it is often best to let a professional handle serious cases of smoke damage or persistent smoky odors. However, there are several things you can do yourself to remove smoke damage and smell.
Step 1
Open windows for ventilation, if possible. Ventilation will not remove all lingering smoke odor but will help.
Step 2
Vacuum all visible soot using a vacuum cleaner with a nozzle attachment. Do not press the nozzle attachment directly into the upholstery or carpets.
Step 3
Take dry-cleanable clothing, bedspreads, curtains and other items to a professional dry cleaner for cleaning. Call a professional carpet cleaner to clean carpets. Do not attempt to clean dry-clean only textiles or carpeting yourself.
Step 4
Wash any machine-washable clothing and textiles according to their care label. Clothing with visible smoke damage should be washed in warm water. Use a liquid detergent. According to research at Louisiana State University, this is the most effective method for removing smoke odor but may take up to five wash cycles to fully remove the odor.
Step 5
Wash wood or tile floors with a cotton mop or cloths. Vacuum up any visible soot before washing.
Step 6
Remove visible soot from walls and ceilings using a sponge soaked in paint thinner or rubbing alcohol. After all soot is removed, wipe down walls and ceilings with a sponge or cloth dipped in mild, soapy water to remove smoke smell.
Step 7
Replace all air conditioning and furnace filters daily, according to your furnace or air conditioner's manual, if you are using the air conditioner or furnace. This will help keep the smoke odor from recirculating.
---
Mary Pletcher began her career as a technical writer in 1999. In 2005 she began publishing cookbook reviews and editorial pieces on MSNBC.com. She has a Master of Fine Arts in writing for screen and television from the University of Southern California.