You can avoid damaging your Grohe soap dispenser by maintaining it according to the manufacturer's specifications. Grohe soap dispensers are designed as high quality consumer items to complement Grohe faucets. While they cost more than a simple bottle of dish soap, Grohe soap dispensers complete the style of the kitchen sink. Avoid over-filling the dispenser bottles to prevent leaking and potential spills. Top-fill in-sink soap dispensers, like the Grohe Interactiv and the Grohe Retroactiv, also need to have the dispensing units cleaned periodically to make them last longer.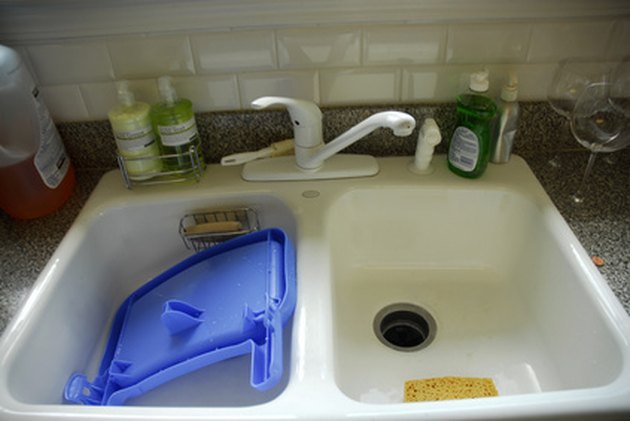 Step 1
Turn the pump, where the soap is dispensed, counterclockwise until it comes free. This will take two or three full turns depending on your specific Grohe soap dispenser model.
Step 2
Lift the pump and straw straight up until it is completely out of the soap dispenser holder. The soap dispenser holder is the base that held the pump and sits on top of the counter or sink ledge.
Step 3
Pour the soap, about 1/2 of the bottle, through the hole located in the center of the soap dispenser holder. This is the hole the pump covered before it was removed.
Step 4
Open the cupboard door so you can look at the bottle of the Grohe soap dispenser. Avoid filling the bottle completely, about 3/4 full is ideal to avoid leaking or spilling.
Step 5
Replace the pump and straw by inserting the straw into the soap dispenser holder, and then turning the pump clockwise to tighten it.
Step 6
Wipe any spilled soap off of the soap dispenser using the soft cloth or sponge to prevent damage to the finish of the unit.