Things You'll Need
Plywood

Saw

Inflatable air bladder

Memory foam

Electric carving knife

Old sheets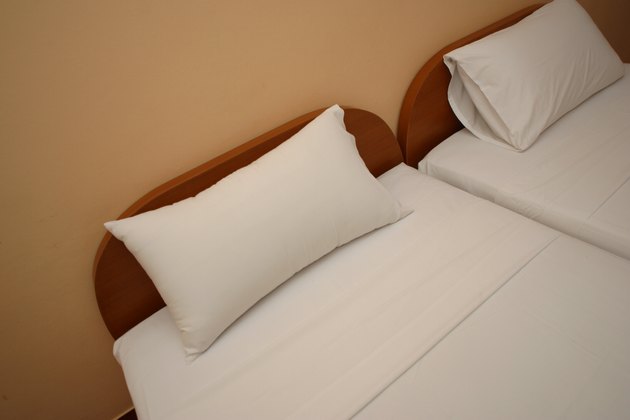 A saggy mattress can disrupt your sleep patterns while causing you to wake up sore and stiff. A sagging mattress is one that is wearing out, and once this process starts, you should consider getting a new mattress. If you do not have the time or money for a new mattress, however, choose a quick fix that will get your mattress firm again.
Step 1
Cut a piece of plywood that is 1 inch smaller in all dimensions than the length and width of your bed using a saw. Place the plywood between the mattress and the box spring and replace the mattress. This gives your mattress a firmer surface.
Step 2
Place an inflatable air bladder between the mattress and the box spring in the location where the sag is most evident and place the mattress on top of the air bladder. Then pump the bladder until it has elevated the mattress to the place where it was. These inflatable air bladders are made specifically for this purpose.
Step 3
Cut up a piece of memory foam using an electric carving knife. The pieces you cut should be roughly the size of the sag in the mattress. Slide the memory foam between the mattress and the box spring.
Step 4
Place the mattress on the floor. This keeps the mattress flat and works well as a free, stop-gap solution.
Step 5
Fold up old sheets and place them on top of the mattress, covering them with a fitted sheet. This works for very slight sagging.
---
Lanh Ma is a professional writer living in Wisconsin. She has been creating professional Web content since 2007 as well as occasionally publishing fiction. Ma holds one bachelor's degree in political science and another in media studies.