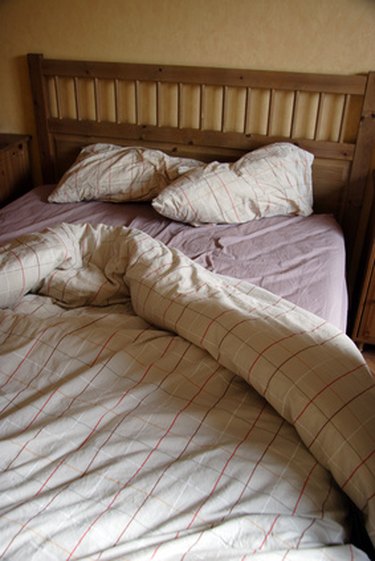 Due to the availability of extra wide widths, sheeting fabric is most often used to make bed linens but its light weight, easy care and versatility make it a popular fabric for quilt backs, linings and other items. While 100 percent cotton sheeting offers more breathability, less expensive cotton/polyester blends are a wrinkle-free option for items such as garments and drapery linings.
Characteristics of Sheeting Fabric
Sheeting fabric is a durable, machine-washable and dryable fabric that comes in widths large enough for bed sheets, quilt backs and other projects in which the fabric should not be pieced together. It is often treated to be flame retardant and is available in a wide variety of colors and prints.
Fabric Content
Sheeting fabric can be 100 percent cotton or a blend of polyester and cotton. Although 100 percent cotton is more absorbent and breathable, it wrinkles and will need to be preshrunk before cutting or sewing. Adding polyester to cotton makes it more stable, eliminating most shrinkage and wrinkles. Muslin is an all-natural, cotton sheeting fabric that come bleached or unbleached and in widths from 36 inches to 118 inches. An inexpensive fabric, muslin is popular for use in constructing test patterns of garments that will later be cut from more expensive fabrics.
Thread Count
Thread count is an indication of how soft and strong a fabric is. Generally, the higher the thread count, the finer the fabric, so if you're looking for sheets that are breathable and lightweight, 200 to 500 thread count should suffice. Also, long staple cotton creates a finer, stronger quality fabric because of the longer lengths of the fibers. Egyptian and Pima cotton are examples of how long fibers result in softer, suppler and more comfortable fabrics.
Finishes
Most sheeting fabric is finished by mercerizing and/or singeing. A fabric that has been mercerized has been treated with a caustic agent such as sodium hydroxide (lye or caustic soda), which makes it stronger and more receptive to dyes. Singeing refers to the process of burning off the tiny tufts of fiber that would otherwise be responsible for "pilling" as the fabric is used. The best quality sheeting fabrics have been both mercerized and singed.
Uses for Sheeting Fabric
Sheeting fabric is used not only for bed linens but also for quilt backs, drapery linings, tablecloths, tents and anything for which extra wide lengths are preferable to having to seam smaller pieces together. Its lower cost also makes it a good choice for test garments and for protecting sensitive plants from frost as well as for costuming.
---
At home in the Midwest, Jayne Adams has written animal and human interest articles and edited newsletters since 1997. Among others, her articles and short stories have appeared in "Slate & Style" magazine, and "Tidbits," a periodical devoted to successful fundraising through schools.