Warning
Do not place the transmitter in water.
Keep the transmitter away from direct heat.
Use care in handling the probe when it's hot.
Do not place the probe wire on a cooking surface.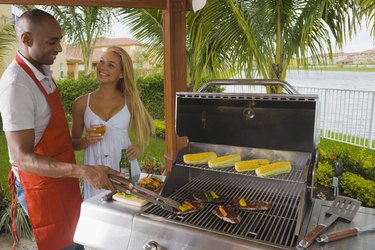 The Brookstone Grill Alert consists of a probe and wireless transmitter unit. The probe is inserted into food, and the transmitter unit displays the cooking temperature. The two units can be placed a distance away from each other, but too much distance can cause signal problems. The units have a built-in system to assist with troubleshooting; it alerts you with beeps or voice prompts to the status of the cooking process.
Step 1
Press the "Power" button for at least two seconds, if it doesn't turn when you press it. The LCD screen on the monitor illuminates when it's powered on; a light flashes on the LED of the transmitter when it's on.
Step 2
Press the "Reset" button on the transmitter and monitor to restore operation if the unit doesn't work properly after changing the batteries or after first turning on the unit. The transmitter and monitor must be reset together to synchronize the units. The "Reset" button is in the battery compartment on both units.
Step 3
Listen closely to the beeps and sounds. Three beeps indicate the transmitter and monitor are out of range; they should sit no more than 300 feet apart. The beeping slows, and the voice prompt says "your entree is almost ready" when the temperature is 5 degrees Fahrenheit from the target temperature. The beeping quickens and a voice prompt announces "your entree is ready" when the target temperature is reached. A fast, continuous beeping indicates the food is over the targeted temperature.
---
Sommer Leigh has produced home, garden, family and health content since 1997 for such nationally known publications as "Better Homes and Gardens," "Ladies' Home Journal," "Midwest Living," "Healthy Kids" and "American Baby." Leigh also owns a Web-consulting business and writes for several Internet publications. She has a Bachelor of Science in information technology and Web management from the University of Phoenix.