Knox Gelatine, also known as Knox Gelatin, has been around for over 100 years. Boxes of Knox can be found in millions of homes, and it is used for countless recipes and many other uses. It's a very low calorie, zero percent fat food additive to explore when on a low-fat diet. It is also used in the pharmaceutical and photography industries.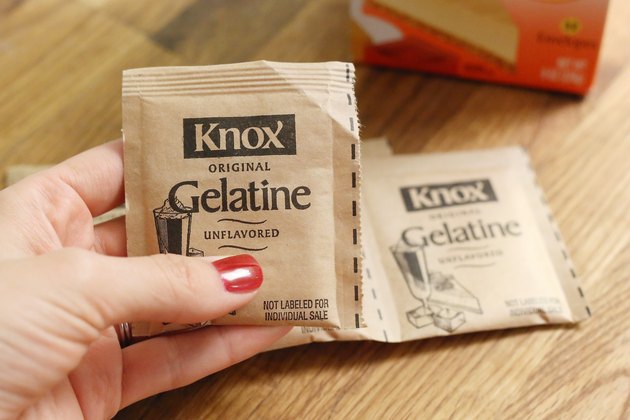 In 1890, the first pre-granulated gelatin was invented by Charles Knox. He came up with the idea while watching his wife Rose make gelatin. Seeing the arduous process she had to go through, he wanted to make the process easier. Rose was the star of the recipe book that went along with the first commercially sold Knox Gelatin boxes.
Gelatin is made from deriving protein from animal by-products, such as the bones and skins from pigs, cows and chickens.
Knox Gelatin is tasteless and odorless; it is used as a thickener, stabilizer and emulsifier in a vast array of recipes. The most well known uses of Knox Gelatin are for desserts, jellies, jams, candies and many bakery products, where it is used to set delicate fillings such as cream or custard. It can also be used in cold or hot soups or to make purees and liquids thicker.
For several years, Knox Gelatin has been used as a home remedy for relief of pain and inflammation caused by arthritis. According to the Arthritis Foundation, however, there is no relief of pain or inflammation when gelatin is consumed; its effect is the same as a placebo. Collagen hydrolysate did appear to aid in the absorption of cartilage when combined with calcitonin. The Knox Company manufactures a supplement called NutraJoint to keep joints flexible during the natural process of aging.
Gelatin has been touted as being good for building strong fingernails and to make hair healthier and stronger. There is no scientific evidence to support either claim. The type of protein in gelatin is not the type that promotes growth or helps with brittle nails. However, many cosmetic companies use gelatin in their hair gel products. A good hair gel can be made by using Knox Gelatin. It works well for spiking and Mohawk hairdos.
Homemade gel air fresheners can be made using packs of Knox Gelatin and essential oils. Dissolve 1 pack of gelatin in 1 cup boiling water, remove from heat and add any shade of food coloring; add 12 drops of essential oil and place in a glass jar to set.
Use Knox Gelatin as an egg substitute when making baked goods. 1 tsp. of unflavored gelatin mixed with 3 tbsp. cold water and 2 tbsp. hot water equals one egg. Do not mix until ready to add to recipe.